Special Events | MAD Ball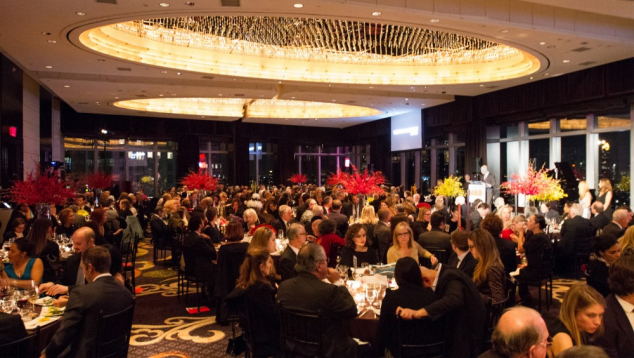 Program Details
Tuesday, November 11, 2014 - 6:30 pm
Pier Sixty, Chelsea Piers
Tuesday, November 11, 2014 - 6:30 pm
Program Description
Please join us for the MAD Ball on Tuesday, November 11, 2014 at Pier Sixty, Chelsea Piers.
The MAD Ball celebrates outstanding individuals in the arts and design fields.  More than 500 guests, including art patrons, artists, designers, and noted corporate and civic leaders, attend the event, which recognizes visionaries in the worlds of business, arts, philanthropy, and creativity.  This year's honorees include artist Michael Aram; artist Richard Dupont; gallerist and collector, Barry Friedman; and French design house, Ligne Roset.  These honorees' work personifies the Museum's mission to examine contemporary making and skilled craftsmanship across all creative fields.
Michael Aram, artist and founder of Michael Aram, Inc., celebrating its 25th Anniversary in 2014, will be honored for his enduring contributions to the world of style internationally. Over the past two and a half decades, Michael Aram has created an incredible legacy of craftsmanship and innovation.  The fine craftsmanship of Indian artisans is a hallmark of Michael Aram's work; his objects range from tableware to furniture to jewelry.
An innovator throughout his career, Richard Dupont has constantly explored new avenues of expression in a variety of media including sculpture, drawing, installation, painting, and printmaking.  His work with digital technologies and fabrication methods, experimental casting techniques, and the manipulation of found objects was recently highlighted in MAD's exhibition Out of Hand: Materializing the Postdigital. His 15 foot high cast aluminum public sculpture, "Going Around by Passing Through", can still be seen in front of MAD on Columbus Circle through early September.
After almost fifty years of representing art and artists, an era has come to an end with the closing of Barry Friedman Ltd, a long-established presence in the international art world. Recognized as a visionary dealer with a collector's eye, Friedman has continually forged new paths in the decorative arts field. MAD is pleased to honor Barry Friedman's lifetime devoted to introducing American audiences to great objects, ranging from 19th century decorative art to important contemporary fine art works.
Ligne Roset will be honored by MAD in celebration of the company's rich design heritage and dedication to craftsmanship.  The Museum recognizes Ligne Roset's tradition of designer collaborations to create award-winning designs for the modern interior, which have epitomized modern luxury and a design-forward lifestyle since their inception in 1860.
The event begins at 6:30pm with a reception and silent auction featuring exclusive art objects, luxury goods, design items, travel getaways, and dining packages.  Live demonstrations will showcase contemporary makers at work and offer guests a direct opportunity to experience the creative process.  A seated dinner with live entertainment and an awards presentation will follow.  The MAD Ball is MAD's most important annual fundraiser, and proceeds from the event help fund MAD's education and public programs, which serve tens of thousands of children, youth, and families per year.
It is sure to be an exciting evening, we hope to see you there!
To purchase tickets to the MAD Ball 2014, click here.
For questions regarding MAD Ball 2014, please call Stephanie Lang at 212.299.7729 or email stephanie.lang@madmuseum.org.