Knowing the Score: An Investigation of Improvisational Structures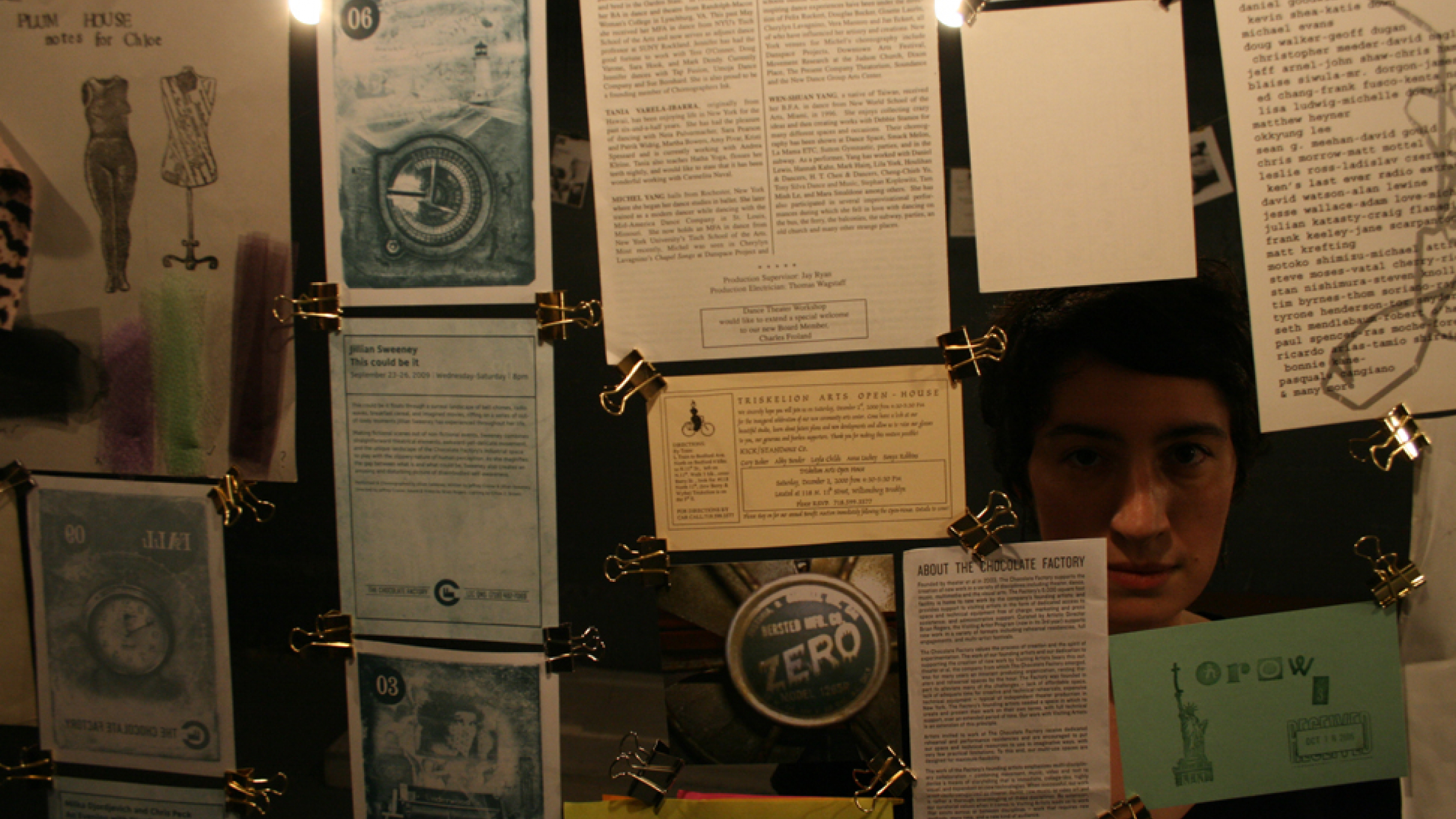 A score is a plan. A score is a preparation. A score is a map, a topography, a terrain. A score is something to explore.
During this one-day, museum-wide event, Sarah Maxfield offers an improvisational score through which to investigate the use of scoring in dance and performance. Maxfield has invited a number of consummate improvisers to participate in the investigation, and visitors to the museum are invited to participate in certain elements of the event as well. The score will be available before the event, so that visitors may choose when and how to join in. Participating artists include Ishmael Houston-Jones, Yvonne Meier, Ursula Eagly, Jen Rosenblit, and more.
Aretha Aoki (In and Out of Uniform) Born in the Pacific Northwest, Aretha moved to the States to pursue an MFA at Smith and upon graduating in 2008, moved to NYC where she is currently based. In Vancouver, she was a part of the collective Kitchen, with visual artist Cindy Mochizuki and theatre artist, Tricia Collins, a collective which for her sparked and cultivated an interest in interdisciplinary collaboration and an exploration of how bodies negotiate different histories, languages and geographies. Now living in Brooklyn, Aretha is dancing in work by choreographers Emily Johnson, Vanessa Anspaugh and Juliette Mapp, and she has had the privilege of dancing and collaborating with other incredible artists throughout her career. Her work has been shown at Aunts, Chen Dance Center, 92nd St Y and Studio 303 and various spaces and places in MA and Vancouver. (arethaaoki.blogspot.com)
Jodi Bender (In and Out of Uniform; Jump In Facilitator) is an artist currently exploring how consciousness and modes of perception relate to the creation of systems of persona and identity. Her primary practices are body-based improvisation and performance; she is a dancer. Bender has appeared in the work of choreographers including Rebecca Davis, K.J. Holmes, Sam Kim, and Tara O'Con among others, and will be showing her own work this October 8th as part of Luis Lara Malvacia's NOT Festival at the Greenspan Center in Williamsburg.
Rebecca Davis (In and Out of Uniform; Jump In Facilitator) creates performance and sculpture. She recently collaborated with the artist duo Allora & Calzadilla on two works for the Venice Biennale and one for the Manchester International Festival. She's currently dancing for Kathy Westwater and working on a new evening-length work that explores the intersection of dreams and digestion. (rdavisprojects.com)
Milka Djordjevich (In and Out of Uniform) is a dance artist who is interested in un-choreographing choreography and choreographing spontaneity. Her choreography has been shown at several New York City venues, including Danspace Project, the Chocolate Factory, Dance Theater Workshop and The Whitney Biennial, and internationally in Austria, Italy, France, Germany, Poland, Serbia and the UK. Milka was a 2006-2007 Movement Research Artist-in-Residence, a visiting artist at P.A.R.T.S. (Brussels), and a 2008 and 2010 danceWEB Europe Scholar. Other projects include co-curating the Movement Research Spring Festival 2008: Somewhere Out There and serving as guest editor for Critical Correspondence. Milka also co-created performance works with composer Chris Peck and with Serbian dance artist Dragana Bulut. (milkadj.wordpress.com)
Ursula Eagly (Jump In Score Contributor) is a New York-based performer and creator. Her most recent work was performed at Danspace Project as part of the Body Madness Platform. She's now making something that will premiere in the summer of 2012, strands of which she performed in July at the Solo in Azione Festival in Milan. (ursulaeagly.org)
Carolyn Hall (In and Out of Uniform) is a freelance dancer based in NYC since 1996 and was awarded a "Bessie" for performance in 2002. She has performed nationally and internationally with numerous choreographers - most recently: Heather Kravas, Amanda Loulaki and Lionel Popkin. In addition to her life as a dancer, she is an historical marine ecologist and has been enjoying exploring ways to combine her art and science halves.
Kennis Hawkins (In and Out of Uniform) is a photographer, performer, and maker of performance. Her newest piece .. and wanting is yet another installment in a series of performances and photographs that deal with inertia, murder ballads, examples of leaving out, de-creation. Kennis has appeared in works by David Neumann, John Jasperse, Marina Abramovic, Neal Medlyn, Katie Workum, Magnetic Laborutorium, and Shen Wei. Since 2006 she has collaborated with Will Rawls as the decidedly non-disciplinarian, site-specific performance duo Dance Gang. In her spare time, Kennis likes to sing and draw portraits of her friends from memory. For more information, please contact kennisann@gmail.com.
Liz Prince (Designer) originally designed the jacket used as part of the score for In and Out of Uniform for Ishmael Houston-Jones' performance in his piece Adolfo und Maria. When Sarah Maxfield asked Prince if she had any objection to this additional use of her design, she replied: "I am always happy to know that costumes are having a long, useful life - not just sitting as a relic in some box."
Ishmael Houston-Jones' (Panelist) improvised dance and text work has been performed in New York City, across the United States, in Europe, Canada, Australia and Latin America. He teaches at Eugene Lang College The New School for Liberal Arts and at the University of the Arts in Philadelphia. He will be performing as part of Dancer Crush at New York Live Arts October 5th through 8th.
Liz Jenetopulos (Timekeeper for In and Out of Uniform) is figuring it out.
Sarah Maxfield (Instigator) investigates contemporary performance and its history through practice, discussion and critical theory. She creates live performance and, with equal focus, she creates structures for viewing and discussing performance and its context. Her projects have been presented by P.S. 122, The Chocolate Factory Theater, and numerous other venues. She spent the summer giving audience to the performance that is New York City and wrote about it recently in The Brooklyn Rail. Maxfield curates THROW, a performance-development series at The Chocolate Factory Theater and One-Shot, a solo performance relay for the Internet, produced in collaboration with the Gibney Dance Center. She is currently conducting an oral history of experimental performance in New York and adapting her recent piece [ ], which the NY Times called "fabulously strange," for a site-specific presentation in Beacon, NY. (sarahmaxfield.wordpress.com)
Yvonne Meier (Panelist), originally from Zurich, Switzerland has, in the past 30 years living in NYC, created countless dance projects spanning anywhere from large-scale spectacles to quiet solos. In all of these pieces improvisation in various forms was present. Her life-long dedication to improvisation has also culminated in the creation of her own improvisation technique. Her two pieces: The Shining and Stolen have received NY Dance and Performance "Bessie" Awards. In 2010 Meier received a American Masters Grant from the National Endowment for the Arts.
Tara O'Con (In and Out of Uniform) makes work that focuses on the visceral experience of both mover and observer. She is a contributing member of Third Rail Projects, and also performs regularly for mvworks among various other freelance projects that come along. O'Con's own work has been shown in showcases around NYC, including Dance Theater Workshop's Fresh Tracks series. In recent years, her work was commissioned and presented by both Danspace Project and The Chocolate Factory Theater. (taraocon.wordpress.com)
Will Rawls (In and Out of Uniform) is a performer and independent choreographer based in New York City. His work explores the dynamic relationship of the body to his research projects in art history, anthropology, folk dance and fantasy. His work has appeared at Dance Theater Workshop, Danspace Project, Dixon Place, The Brooklyn Museum, ISE Cultural Foundation and Mount Tremper Arts. Since 2006, Rawls has collaborated with Kennis Hawkins as the performance art duo, Dance Gang. He has performed with Shen Wei Dance Arts, Noemie LaFrance, nicholasleichterdance, Katie Workum, Neal Medlyn and David Neumann / advanced beginner group. In 2010, Rawls was an interpreter in Tino Sehgal's "This Progress" at the The Guggenheim Museum, New York, and re-performed works by Marina Abramovic at the Museum of Modern Art. Rawls will present a new solo, Collected Fictions, at Danspace Project in February 2012 and will appear in Alain Buffard's Baron Samedi, premiering April 2012 in Nimes, France.
Jen Rosenblit (In and Out of Uniform; Panelist) has been living and working in NYC since 2005 after studying at Hampshire College and a youth in rural Maine. She has worked with performer Addys Gonzalez for ten years, locating and negotiating the essence of their specific collaborative nature. Rosenblit's work has taken her to Denmark, Moscow and Milan and she has set work on both Hampshire and Hollins students. She has taught in NYC through CLASSCLASSCLASS and is currently holding a performance class using improvisation as source material at Gibney Dance Center. Rosenblit was a 2008 Fresh Tracks artist, part of Juliette Mapp's Platform 2010: Back to New York City at Danspace Project, a 2010-11 Studio Series artist at DTW and will premiere her newest work In Mouth in a split bill at New York Live Arts in February 2012.
Jillian Sweeney (Personal Effects) received her MFA in Dance from Smith College, where she was also a teaching fellow. Her work has been presented by the Chocolate Factory, HERE Arts Center and at Danspace Project's Food For Thought, DanceNOW Festival, WaxWorks, Dixon Place, Galapagos Art Space, and One Arm Red. She co-created and performed in Dance Theater Workshop's Community Choreography Challenge videos. She has performed in the work of Ben Asriel, Sarah Maxfield, Tami Stronach Dance, and Theresa Duhon, among others. She currently works for a literary agent in Soho. (jilliansweeney.com)
Maggie Thom (In and Out of Uniform) grew up in NYC. Her early work (age 7) included a dance about waiting for the elevator, being late and then hailing a cab, which she performed at the old DTW, under the guidance of Ellen Robbins with lighting design by Phil Sandstrom. She then received her BA from Wesleyan University where she majored in Dance and Psychology. She has worked with Sara Rudner since 2007 and appeared in Dancing On View at the Baryshnikov Arts Center, and at the Institute for Contemporary Art in Boston, MA. She has also had the great pleasure of working with folks like Vicky Shick, Juliana F. May's MAYDANCE since it's inception, Stacy Grossfield, Philippa Kaye, Megan Boyd & Luka Kito, and Laurel Jenkins Tentindo. She teaches Yoga to adults and Music to pre-school children.
Arturo Vidich (In and Out of Uniform) is an inter-media artist working mainly in dance, performance and video. His work consists of actions and artifacts that revolve around his long-time fascination with bodies and behavior, both human and non-human. Beginning in 2003, Vidich's performance work has been presented in New York by The Chocolate Factory, Abrons Art Center, New Museum, Brucennial 2010: Miseducation, Danspace Project at St. Mark's Church, 319 Scholes, Movement Research, Catch Series, Dixon Place, Chashama, and AUNTS. In 2010, Vidich recieved a Bessie Award (New York Dance and Performance) for his collaboration on Yvonne Meier's Stolen.
Enrico D. Wey (In and Out of Uniform) is a builder. He has shown iterations of work since 2006, notably for Danspace's 2009 winter season, the New Museum, and the St. Ann's Warehouse Puppet Lab. He was selected as an LMCC SwingSpace and DTW Fresh Tracks Residency Recipient in 2010. Most recently, he was engaged in Ishmael Houston-Jones' revival of THEM (PS122, Abrons), Yvonne Meier's Brother of Gogolorez (DSP), and Trajal Harrell/Sarah Sze's residency at the ICA Boston. Enrico has served as a member of South Africa's Handspring Puppet Company since 2004, touring internationally with Tall Horse and the William Kentridge directed opera, Il Ritorno d'Ulisse. He is currently puppeteering in War Horse at the Lincoln Center Theater. (livinglaboratory.org)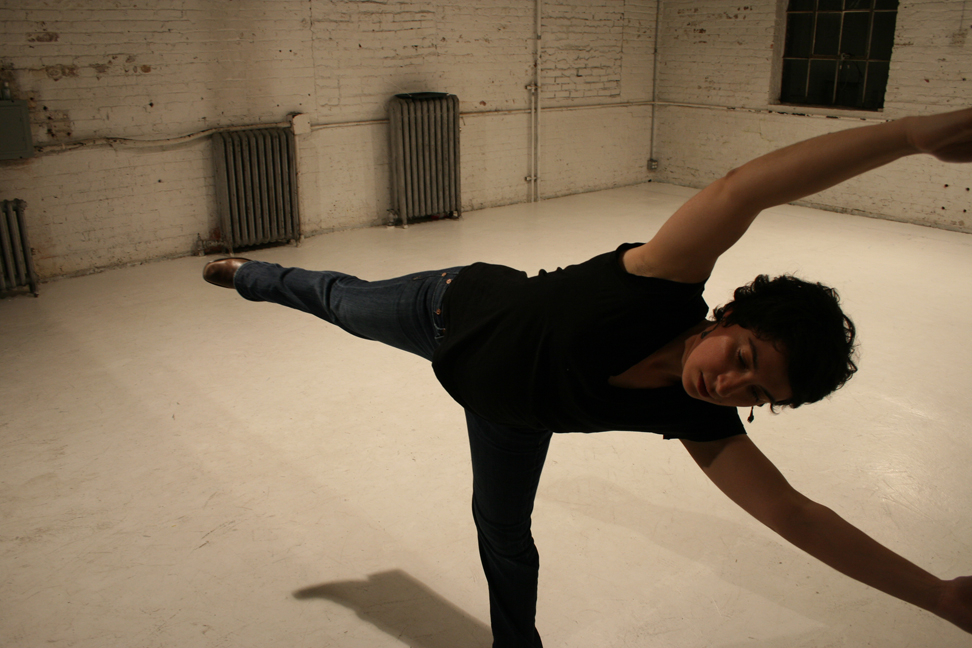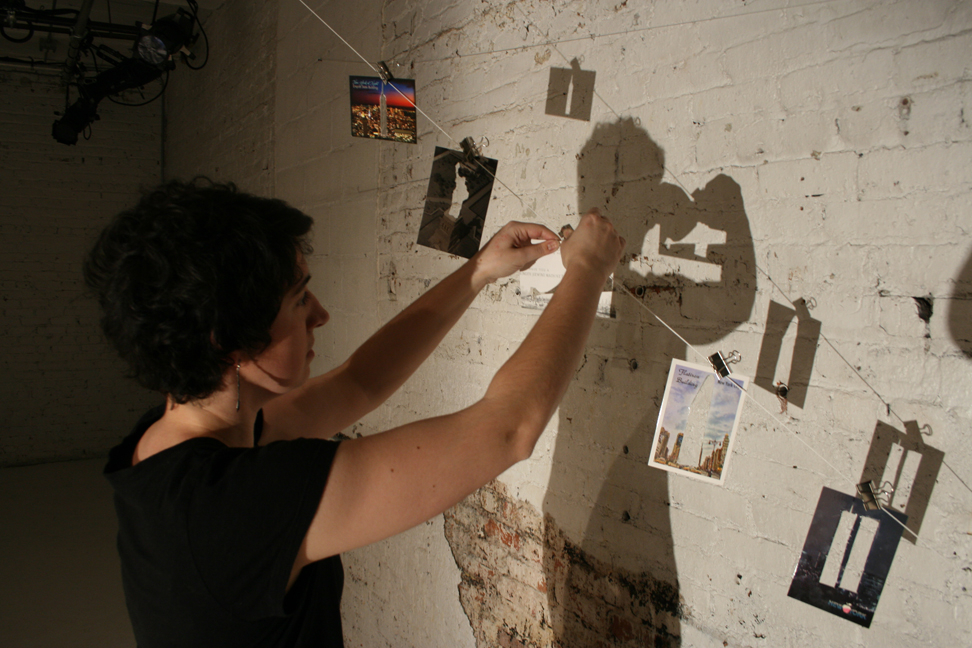 Please review our health and safety protocols before you arrive. MAD strongly recommends all visitors six months and older are vaccinated against Covid-19 and visitors ages two and up wear face coverings, even if vaccinated. Thank you for your cooperation.