Sonic Arcade: Shaping Space with Sound
Sep 14, 2017–Feb 25, 2018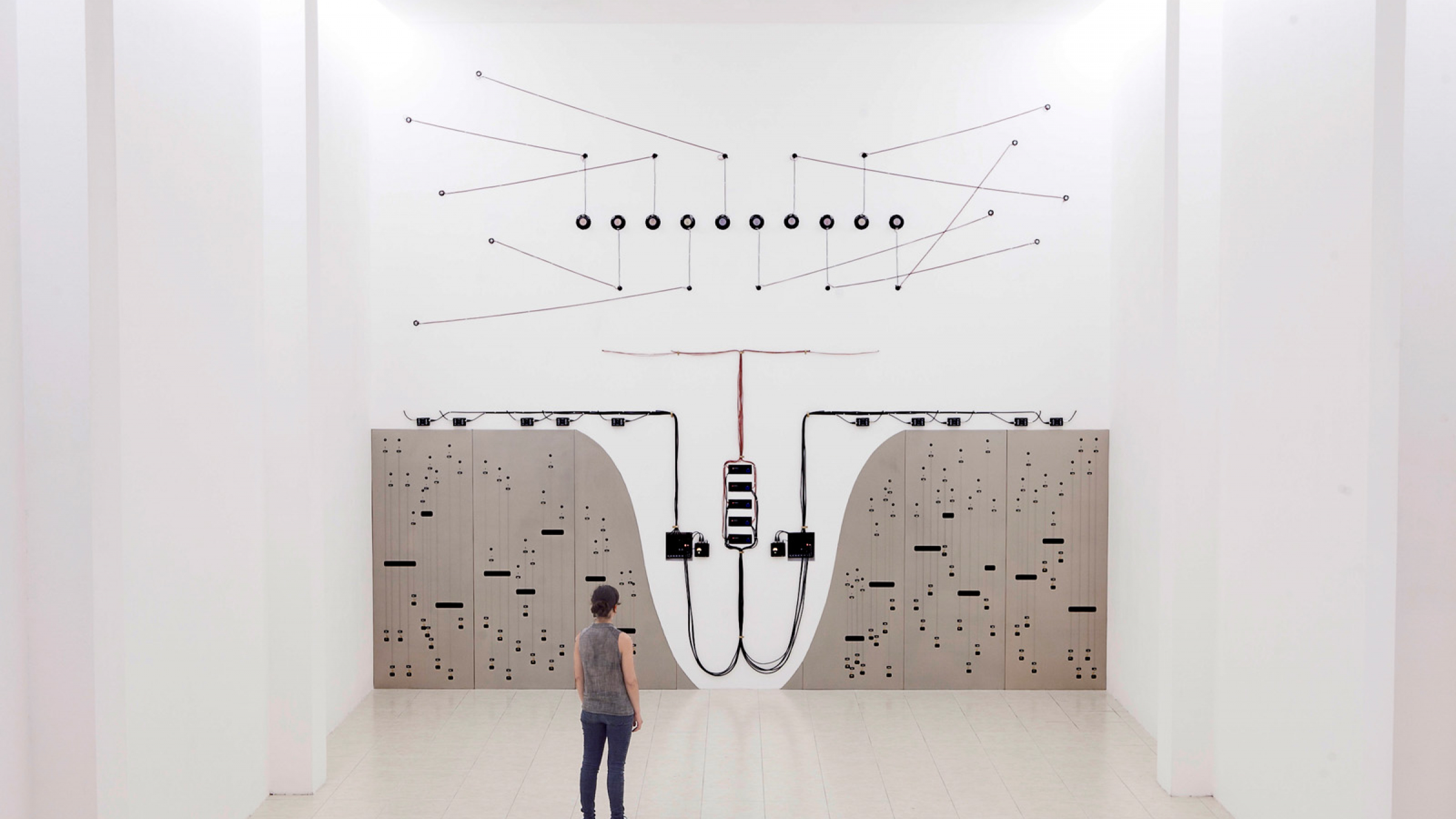 Sonic Arcade: Shaping Space with Sound is a multi-component exhibition featuring interactive installations, immersive environments, and performing objects that explore how the ephemeral and abstract nature of sound is made material. At a time when so much visual information is being dispatched, consumed, and digested, the auditory provides a compelling sensory experience that is capable of reorienting the body to consider spatial and interpersonal relationships anew.
Comprised of linked solo and curated projects, Sonic Arcade explores sound as substance, framing it as interdependent material that is physically crafted and transmitted through electronic circuits and signals, radio waves, and resonant bodies that create encounters that are not only heard, but felt. The exhibition features contemporary artists, designers, and performers who respond to sound's potential as a material that influences how people experience space, their environment, and time, drawing out the ability of the auditory to provide a fresh perspective on how surroundings, and the body, are perceived and engaged.
Sonic Arcade features solo projects by Arjen Noordeman and Christie Wright, Louise Foo and Martha Skou, MSHR, Julianne Swartz, Naama Tsabar, and Studio PSK, whose project incorporates on-site residency and activation by New York–based choreographers. In addition, Sonic Arcade includes two nested exhibitions: the first, curated by Robert Aiki Aubrey Lowe, features commissions by Emily Counts and Make Noise; the second, curated by Radius, comprises off-site, site-specific commissions by Deborah Stratman and Anna Friz.
Sonic Arcade: Shaping Space with Sound is curated by Shannon R. Stratton, MAD's William and Mildred Lasdon Chief Curator, with the support of Curatorial Assistant and Project Manager Angelik Vizcarrondo-Laboy. Audiowear, the collaborative solo project by Noordeman and Wright, is curated for the Tiffany & Co. Foundation Jewelry Gallery by Assistant Curator Barbara Paris Gifford. The activation of Studio PSK: Polyphonic Playground is curated by Manager of Public and Community Engagement Programs Danny Orendorff.
Leading support for Sonic Arcade: Shaping Space with Sound is generously provided by the Andy Warhol Foundation for the Visual Arts and Michele and Marty Cohen. The Museum of Arts and Design also gratefully acknowledges the support of exhibition co-chairs Andi Potamkin Blackmore and Jordan Blackmore; Laura and Lewis Kruger; MAD's Chairmen's Council and Director's Circle; Paul Kasmin Gallery; Upfor; the Consulate General of the Netherlands as part of the Dutch Culture USA program; the Consulate General of Israel; and the Danish Arts Foundation. In-kind support for this exhibition is provided by KEF and Turnstyle Underground Market. In-kind support for the exhibition's education and public programs is provided by littleBits Electronics, Inc.
Media Partner: WNYC
This exhibition is supported, in part, by public funds from the New York City Department of Cultural Affairs in partnership with the City Council.

Artist Bios
Emily Counts was born in Seattle, Washington, where she currently lives and works. Utilizing natural materials that carry a rich history of craftsmanship—ceramics, bronze, wood, fiber, and glass—her practice explores contemporary themes of connectivity in biology, technology, and sexuality. She has exhibited at the Torrance Art Museum, Garboushian Gallery, Mark Moore Gallery, and Durden & Ray in California; at Nationale, Carl & Sloan Contemporary, and Disjecta in Portland, Oregon; and at Eitoeiko and Gallery Lara in Tokyo. Counts has been an artist-in-residence creating work for associated solo exhibitions at RAID Projects and Plane Space. She has received grants from the Oregon Arts Commission, the Regional Arts and Culture Council, and the Ford Family Foundation.
Louise Foo and Martha Skou are Danish-born artists based in New York City. Their careers span the worlds of music, visual art, and design. In their collaborative practice, they share the urge to explore and better understand the physics and systems of sound. Working with installations, visual design, and experimental software, they communicate the magic they find in their research through the creation of experiences. Foo/Skou have previously participated together in residencies at Pioneer Works and the New York Art Residency and Studios (NARS) Foundation. Foo/Skou have shown their work at venues including Reverse Space, Creative Tech Week Expo, and Telfair Museums' PULSE Art + Technology Festival.
Anna Friz is a sound and media artist who specializes in multichannel radio transmission systems for installation, performance, and broadcast. Since 1998, she has created and presented new audio art and radiophonic works in more than twenty-five countries. Her radio works, in which radio is often the source, subject, and medium, have been commissioned for national public radio in Canada, Australia, Austria, Germany, Finland, and Spain, and heard around the world on independent and clandestine frequencies. She also composes atmospheric sound works and sonic installations for theater, dance, film, and solo performance that reflect upon public media culture, political landscapes and infrastructure, and time perception. Friz is currently Assistant Professor of Sound in the Film and Digital Media Department of the University of California, Santa Cruz.
Robert Aiki Aubrey Lowe is a New York–based artist and composer who works with voice in the realm of spontaneous music. Most recently, he has focused on creating patch pieces with a modular synthesizer and tonal vocal work. He has exhibited widely at art venues including Performa 11, Yerba Buena Center for the Arts, and Fondation Louis Vuitton, Paris. Lowe has worked with Ben Russell, Jóhann Jóhannsson, Tarek Atoui, Philippe Parreno, Ariel Kalma, Lucky Dragons, Alexandra Wolkowicz, Biba Bell, ADULT., Ben Rivers, Rose Lazar, Rose Kallal, and many others.
Make Noise was founded in 2008 by Tony Rolando, a self-taught electronic musical instrument designer. What started as a re-visioning of jettisoned music technology has grown into a crew of folks working together in Asheville, North Carolina, to design and build strange yet thoughtful modular synthesizers. Make Noise sees these instruments as a collaboration with musicians who create once-in-a-lifetime performances that push boundaries and play the notes between the notes to discover the unfound sounds. The instruments are intended to be an experience, one that requires us to change our trajectories and thereby impacts the way we understand and imagine sound.
MSHR is the art collective of Birch Cooper and Brenna Murphy. Their work meshes digital sculpture, analogue circuitry, and ceremonial performance. The duo builds and explores cybernetic systems using synthesizers of their own design. For exhibitions, they install macro-arrangements of these sculptural instruments to create immersive light-sound-scapes. In their performances, they engage the systems through a series of unique interfaces. They also work with 3D modeling programs to design virtual forms that are output as images and sculptures with the use of digital fabrication. MSHR's sculptural, musical, and electronic works inform each other deeply, creating the meta-form that is the duo's collaborative practice. MSHR emerged from the five-person art collective Oregon Painting Society in Portland, Oregon, in 2011. They have been artists-in-residence at Sonoscopia, Eyebeam, Pioneer Works, and Signal Culture.
Arjen Noordeman is based in Amsterdam, the Netherlands. He has worked as a designer for the interactive design company the Chopping Block in New York City, as well as for broadcast companies including RTL in the Netherlands and Bravo in New York. He has also served as Director of Design at the Massachusetts Museum of Contemporary Art and as Art Director at Nickelodeon in New York City. He and his design partner, Christie Wright, created Audiowear, a series of musical jewelry inspired by idiophone and aerophone instruments and the acoustic quality of clay. The recipient of Promax Entertainment Creative, Eyes & Ears, and Art Directors Club Awards, Noordeman is currently Creative Director of Brand Design for Comedy Central, Spike, and Paramount Network in Amsterdam.
Radius is an experimental radio broadcast platform established in 2009 that produces, exhibits, and distributes work by radio and transmission artists from around the world. Radius provides artists with live and experimental formats in radio programming and features a new episode monthly, with statements by artists who use radio as a primary element in their work. The goal is to support work that engages the tonal and public spaces of the electromagnetic spectrum. The founder and Artistic Director of Radius, Jeff Kolar (b. Chicago, US), is an independent sound artist, radio producer, and curator. His solo and collaborative projects, installations, and public performances often investigate the mundane sonic nuances of everyday electronic devices.
Deborah Stratman is a Chicago-based artist and filmmaker interested in landscapes and systems. Much of her work points to the relationships between physical environments and human struggles for power and control that play out on the land. Recent projects have addressed freedom, expansionism, surveillance, sonic warfare, public speech, ghosts, sinkholes, levitation, propagation, Orthoptera, raptors, comets, and faith. She has exhibited internationally at venues including the Museum of Modern Art, Centre Pompidou, Hammer Museum, Mercer Union, Witte de With, the Whitney Biennial, and festivals including Sundance, Viennale, CPH:DOX, Oberhausen Short Film Festival, Ann Arbor Film Festival, Full Frame, and the International Film Festival Rotterdam. Stratman is the recipient of Fulbright, Guggenheim, and United States Artists fellowships; a Creative Capital grant; and an Alpert Award. She teaches at the University of Illinois at Chicago.
Studio PSK is an award-winning design and creative studio based in London, UK. Using design and technology, Studio PSK creates unique experiences that bring audiences and organizations closer together. Characterized by a cross-disciplinary approach, the studio works with brands, companies, and galleries to tell stories through interactive objects, digital environments, installations, and graphics. Studio PSK has produced work that has been exhibited internationally in the Design Museum; MU artspace, Eindhoven; Tate Modern; National Institute of Design, India; Victoria and Albert Museum; Design Miami; and Macau Tower. Polyphonic Playground was originally commissioned by Fashion Space Gallery, London.
Julianne Swartz lives and works in Stone Ridge, New York. Her work has been exhibited at venues including Tate Liverpool, Whitney Museum of American Art, the New Museum, the Jewish Museum, MoMA PS1, Indianapolis Museum of Art, the Israel Museum, Massachusetts Museum of Contemporary Art, and the Art Gallery of Western Australia. She was a recipient of the Anonymous Was a Woman fellowship in 2015.
Naama Tsabar was born in Israel and currently lives and works in New York City. She creates sensually driven installations, performances, and sculptures that evoke questions of power and bravado found in musical and social environments. The works investigate the underlying themes of intimacy, performativity, sexuality, and excess with a minimalist aesthetic. She zooms in on the objects and materials that hold a distinct functional purpose within these bigger, all-encompassing experiences, inserting them into a new order. Tsabar has had solo exhibitions and performances presented at the Guggenheim, High Line Art, Palais de Tokyo, Tel Aviv Museum of Art, Herzliya Museum for Contemporary Art, MARTE Contemporary, Frieze New York, Páramo Gallery, Dvir Gallery, Spinello Projects, and Pianissimo Gallery.
Christie Wright is based in Amsterdam, the Netherlands. She has created work for various publications, including Martha Stewart Living, View on Colour, and Bloom magazine. She has served as a stylist for the trend forecasting company Studio Edelkoort, Paris, as a designer creating products for the lifestyle brand West Elm in Brooklyn, and as a teacher in the Product Design Department of Parsons School of Design. She and her design partner, Arjen Noordeman, created Audiowear, a series of musical jewelry inspired by idiophone and aerophone instruments and the acoustic quality of clay. The recipient of various honors, including a Fulbright grant and a Louis Comfort Tiffany Grant for the Arts, Wright is currently Associate Creative Director for Marcel Wanders' studio in Amsterdam.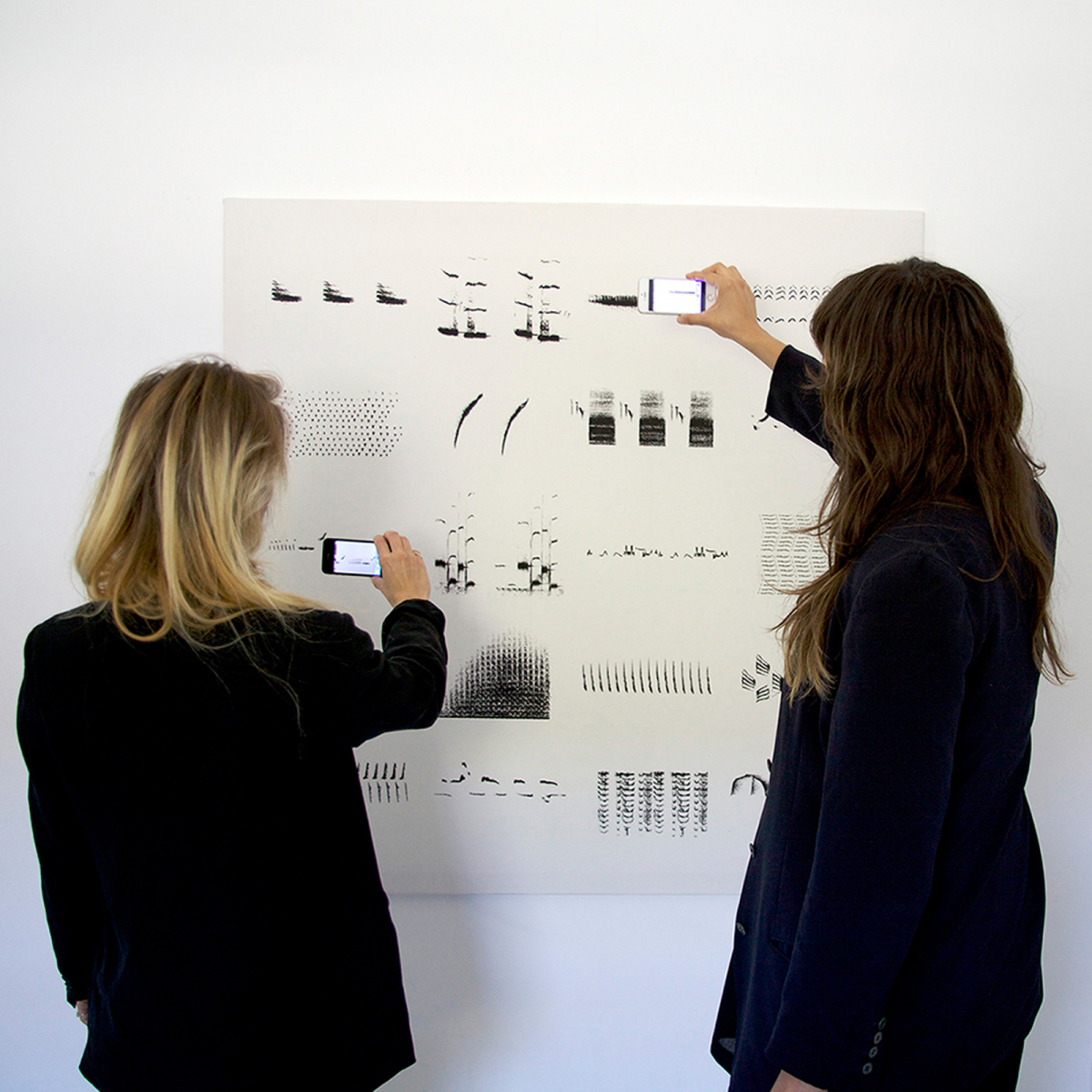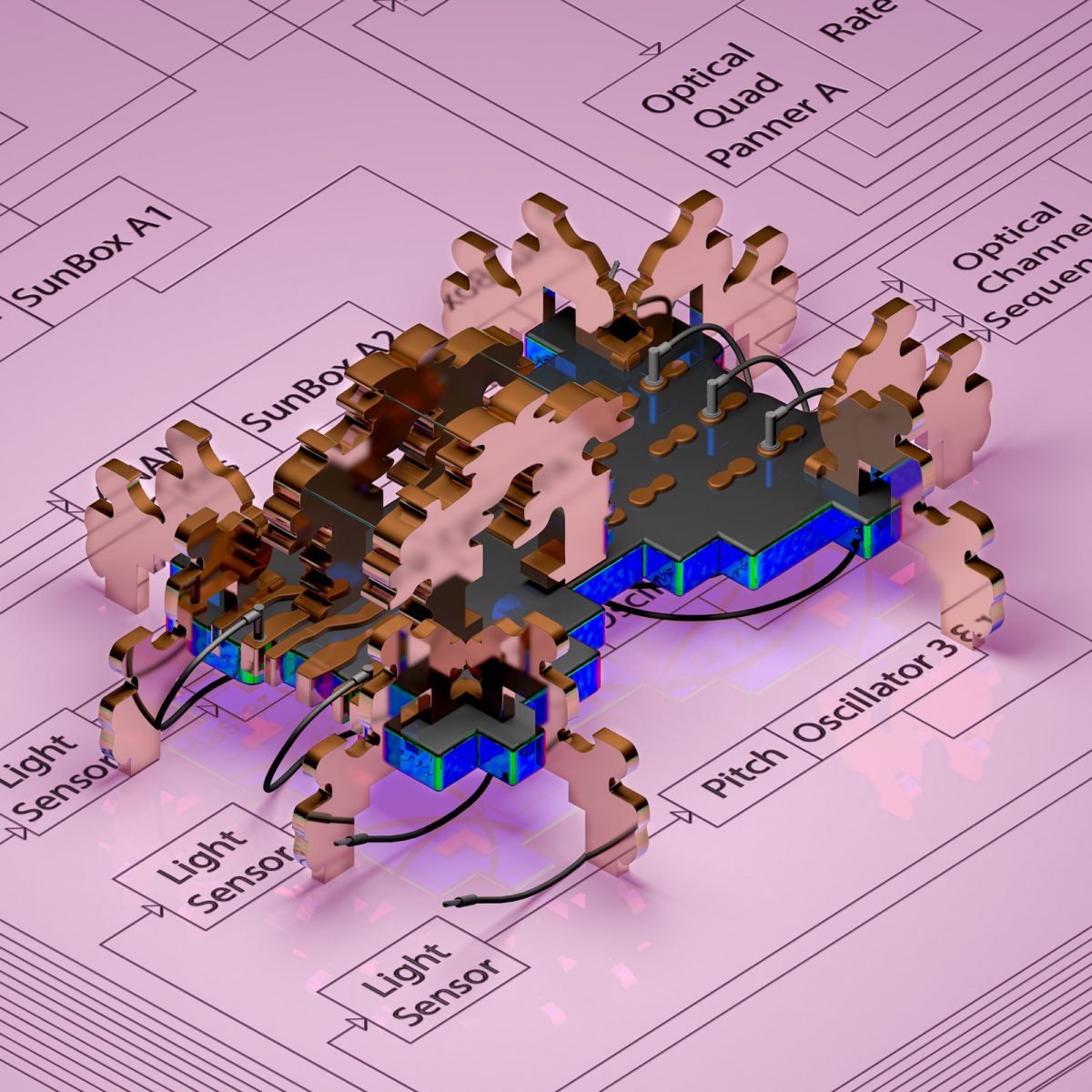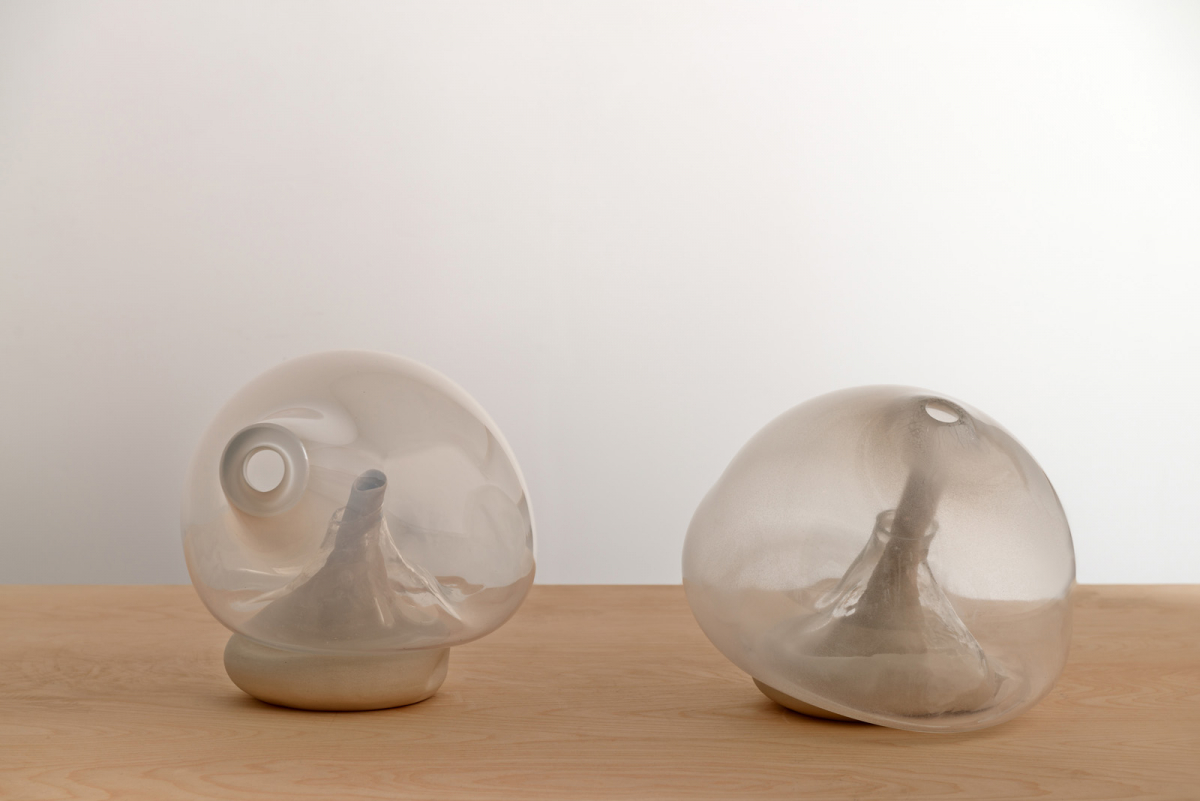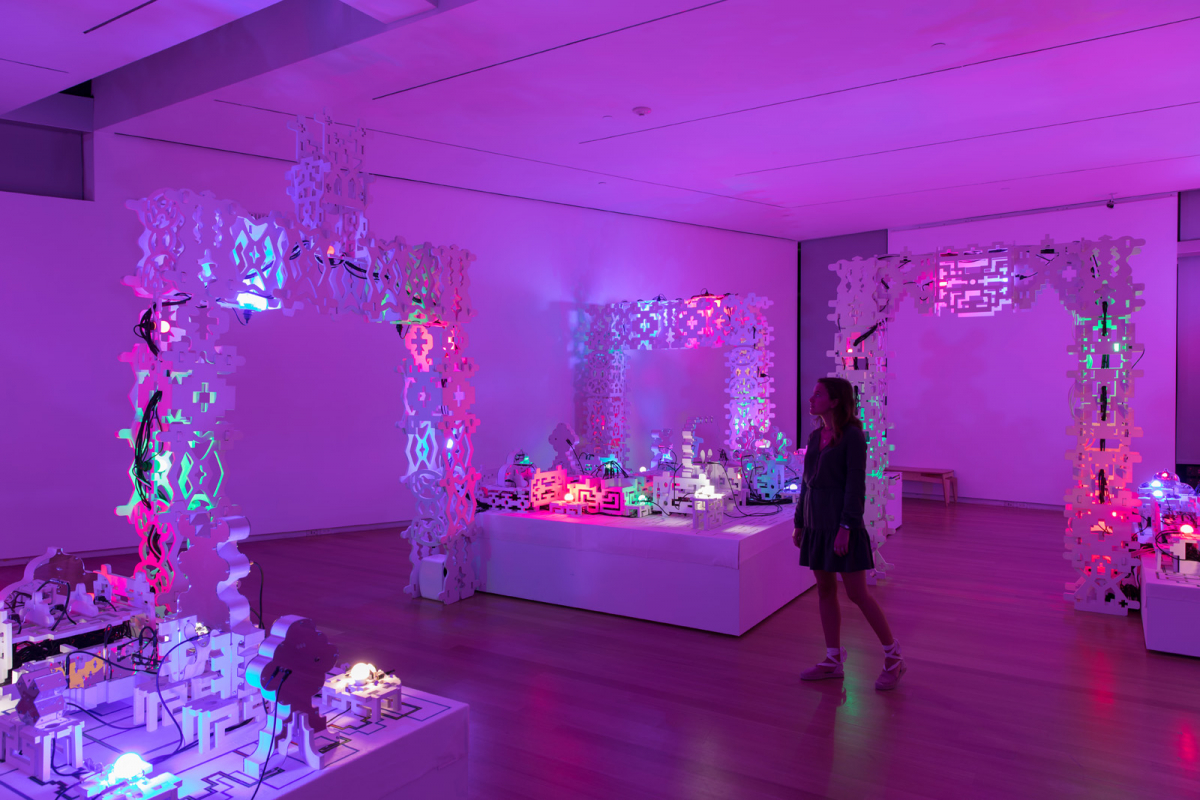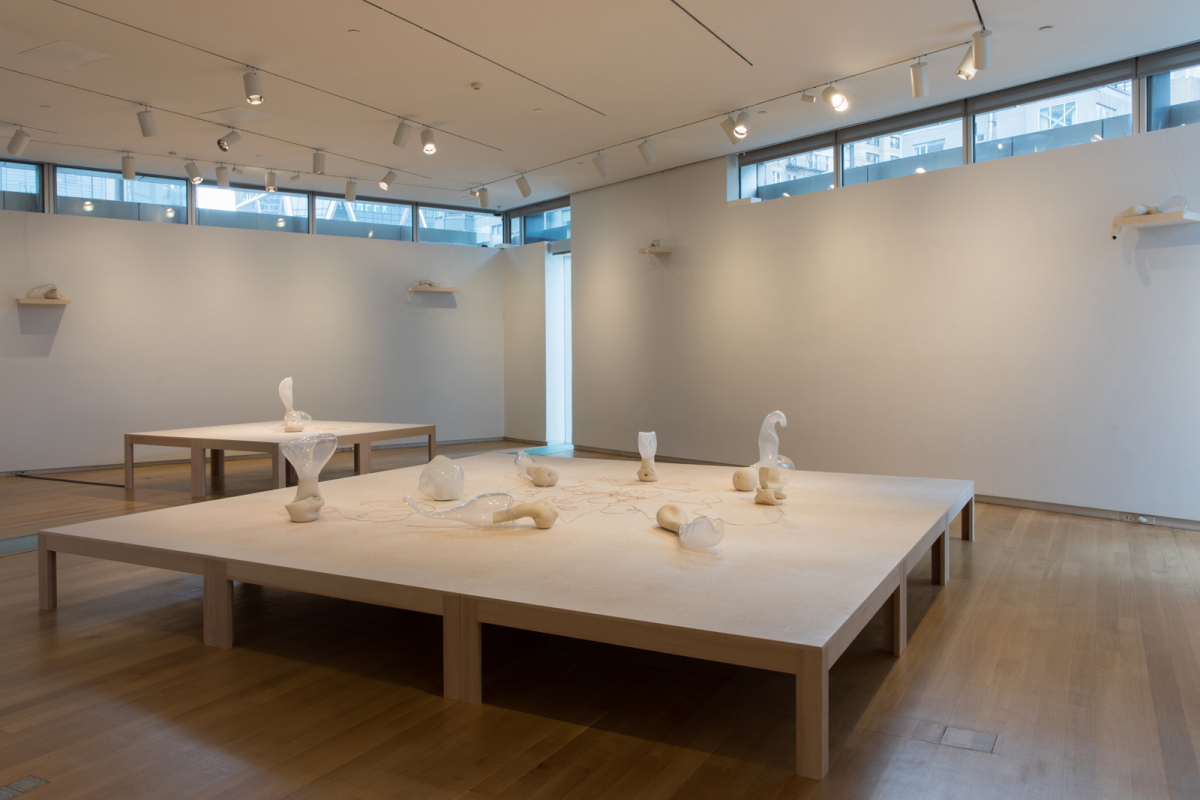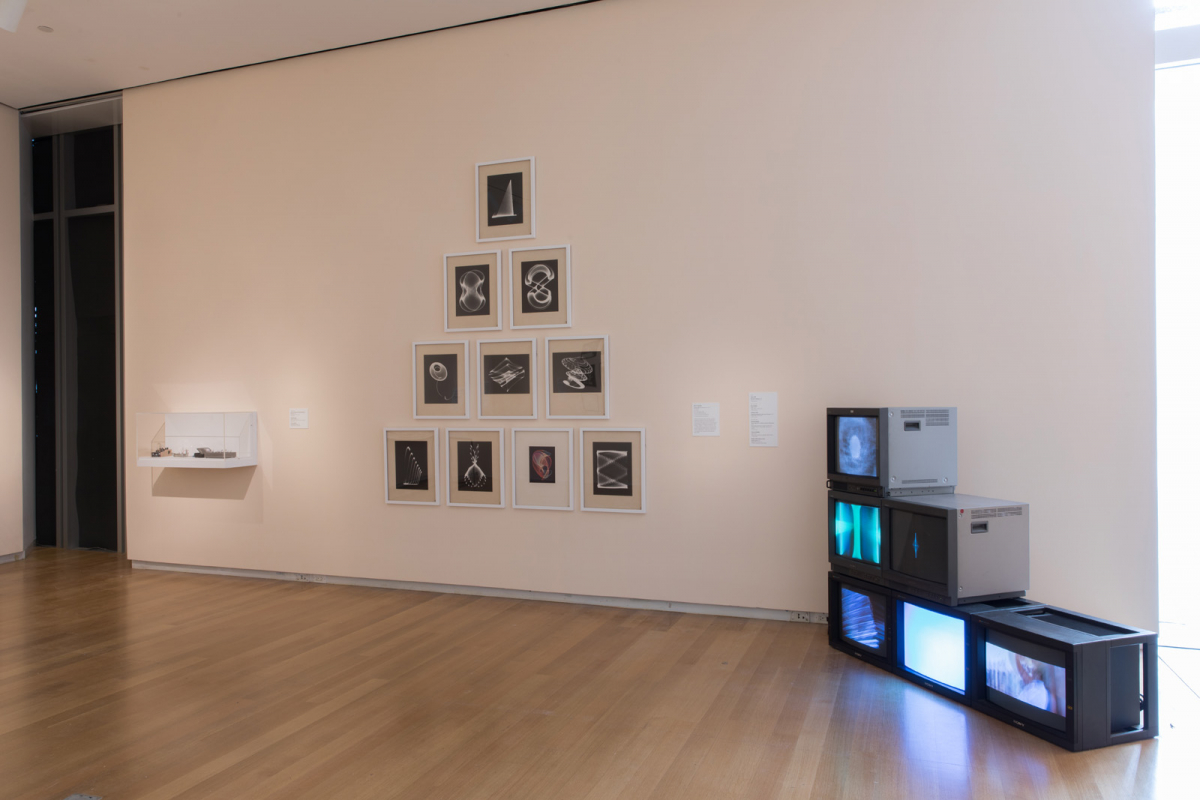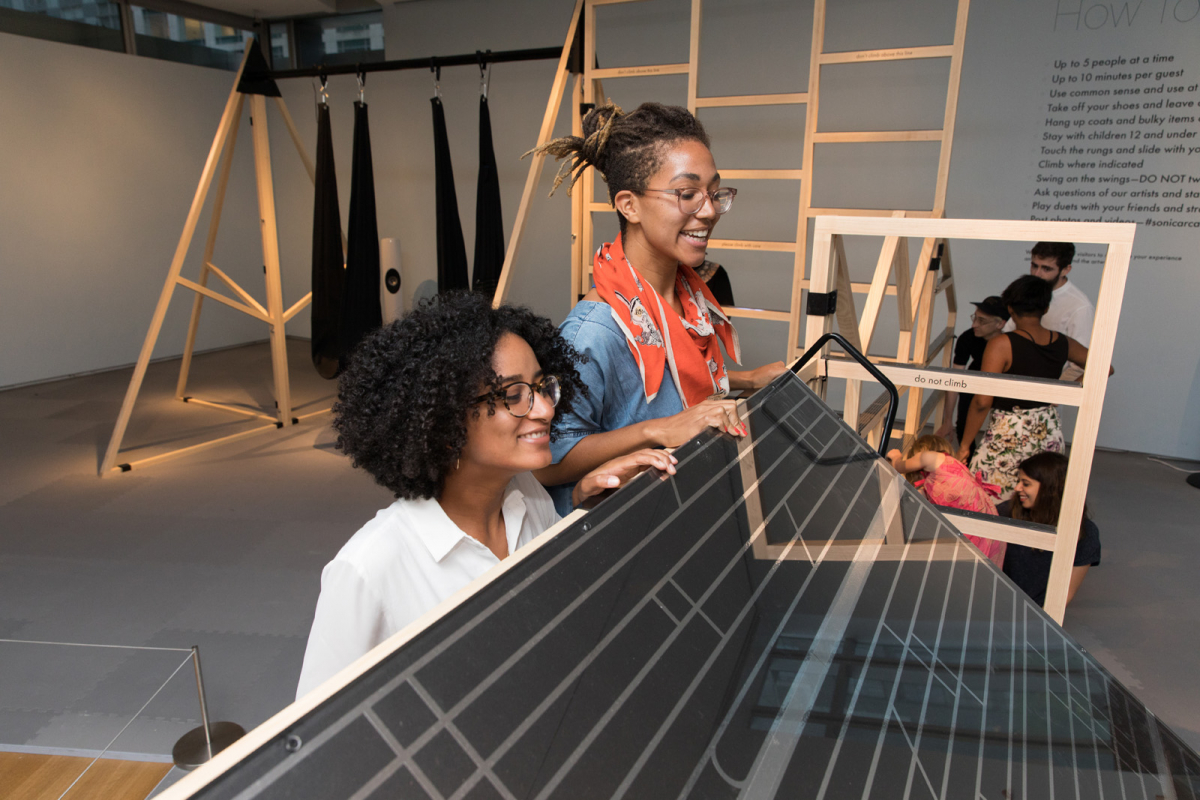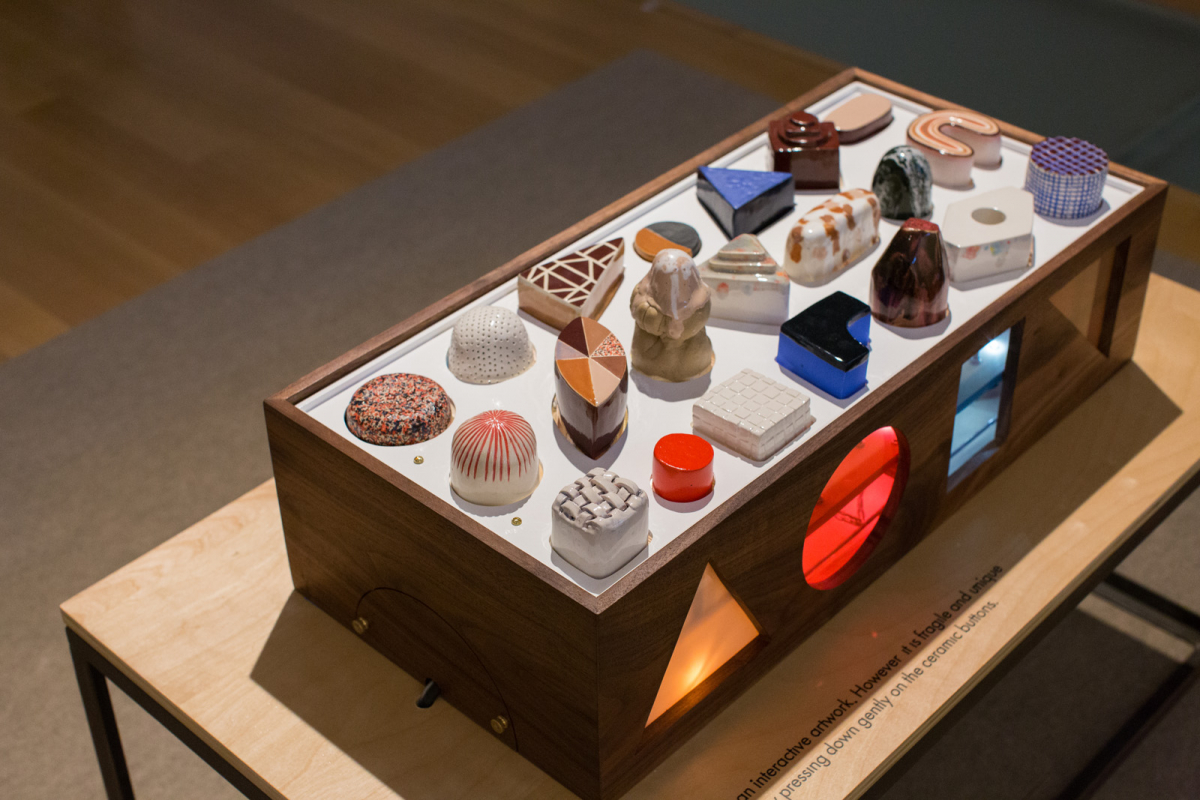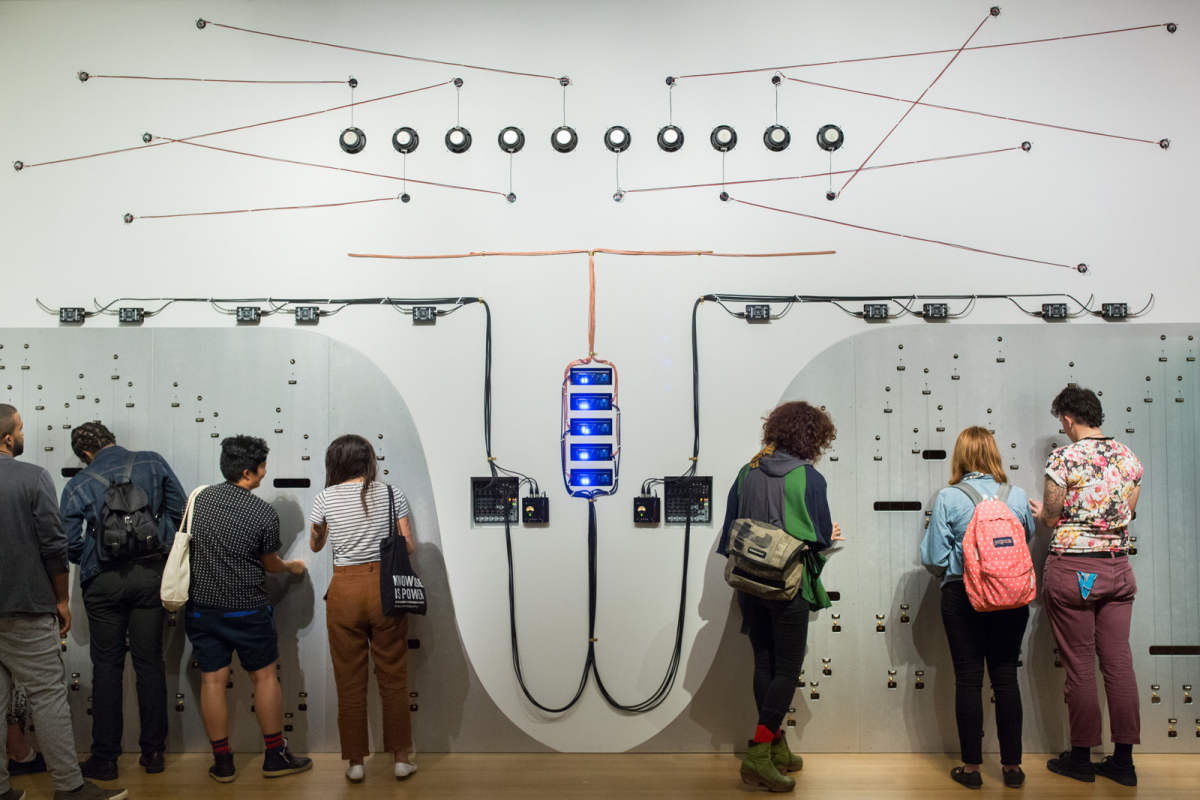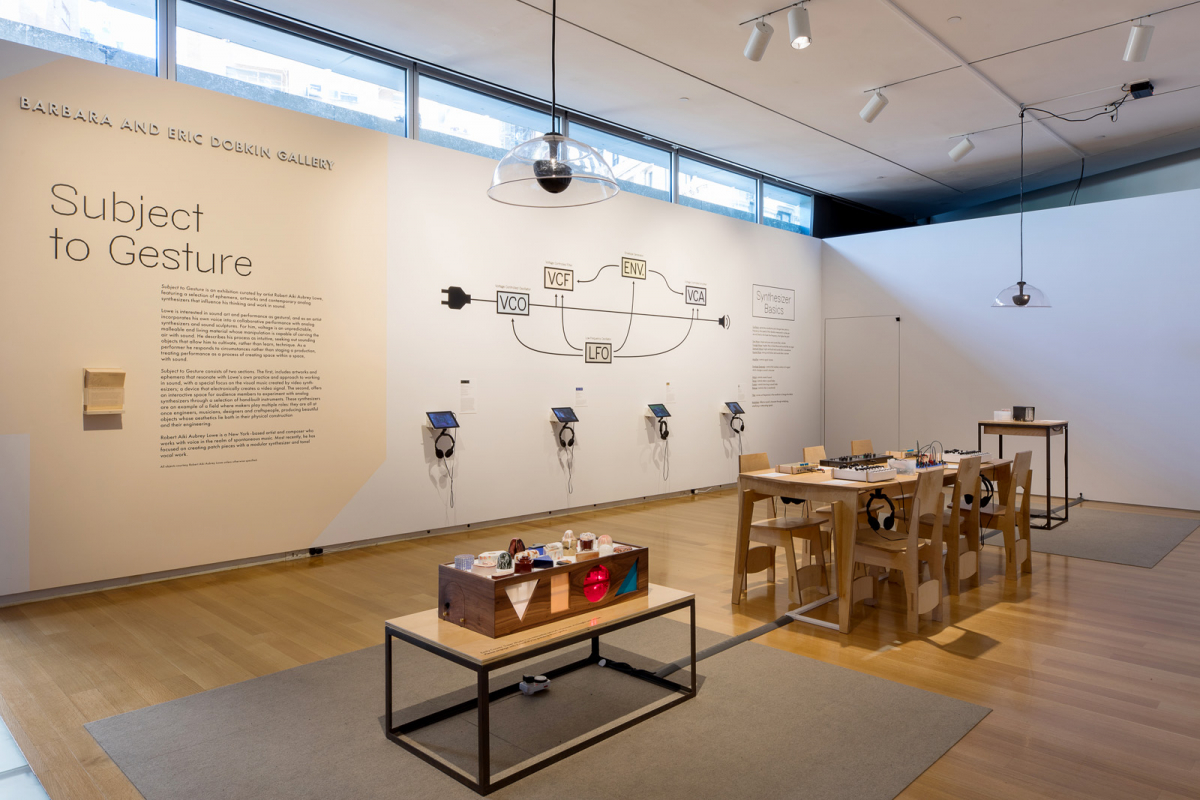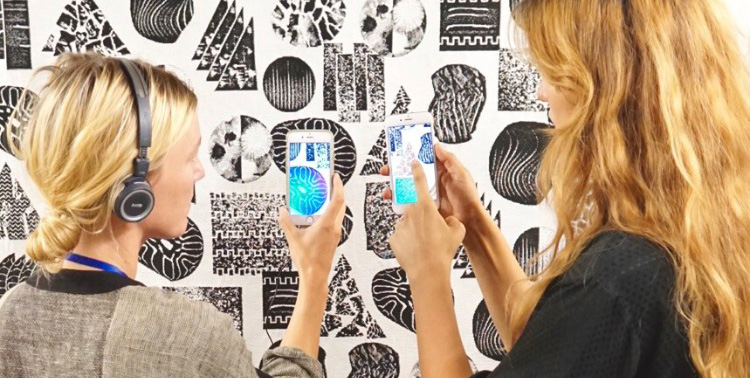 Download Format 3, a free app to interact with and experience the Format 3 installation by artist duo Foo/Skou which combines physical objects, a geometric alphabet, and sound to create a graphic score. Foo/Skou's Format 3 sound experience extends through the passageway of MAD's stairwell B, linking the 6th, 5th, and 4th floors. More information about Format 3 can be found on the 5th floor landing.