'LOOT: MAD About Jewelry' Returns this Spring with 54 Artists from 21 Countries
LOOT: MAD ABOUT JEWELRY, April 4–8, 2017

LOOT Opening Benefit, April 3, 2017
Featuring the Announcement of the LOOT Acquisition Prize
and Presentation of LOOT Awards Honoring Camilla Dietz Bergeron, Francine LeFrak, and Kara Ross

Dame Zandra Rhodes, Honorary Chair
Paolo Costagli, Corporate Sponsor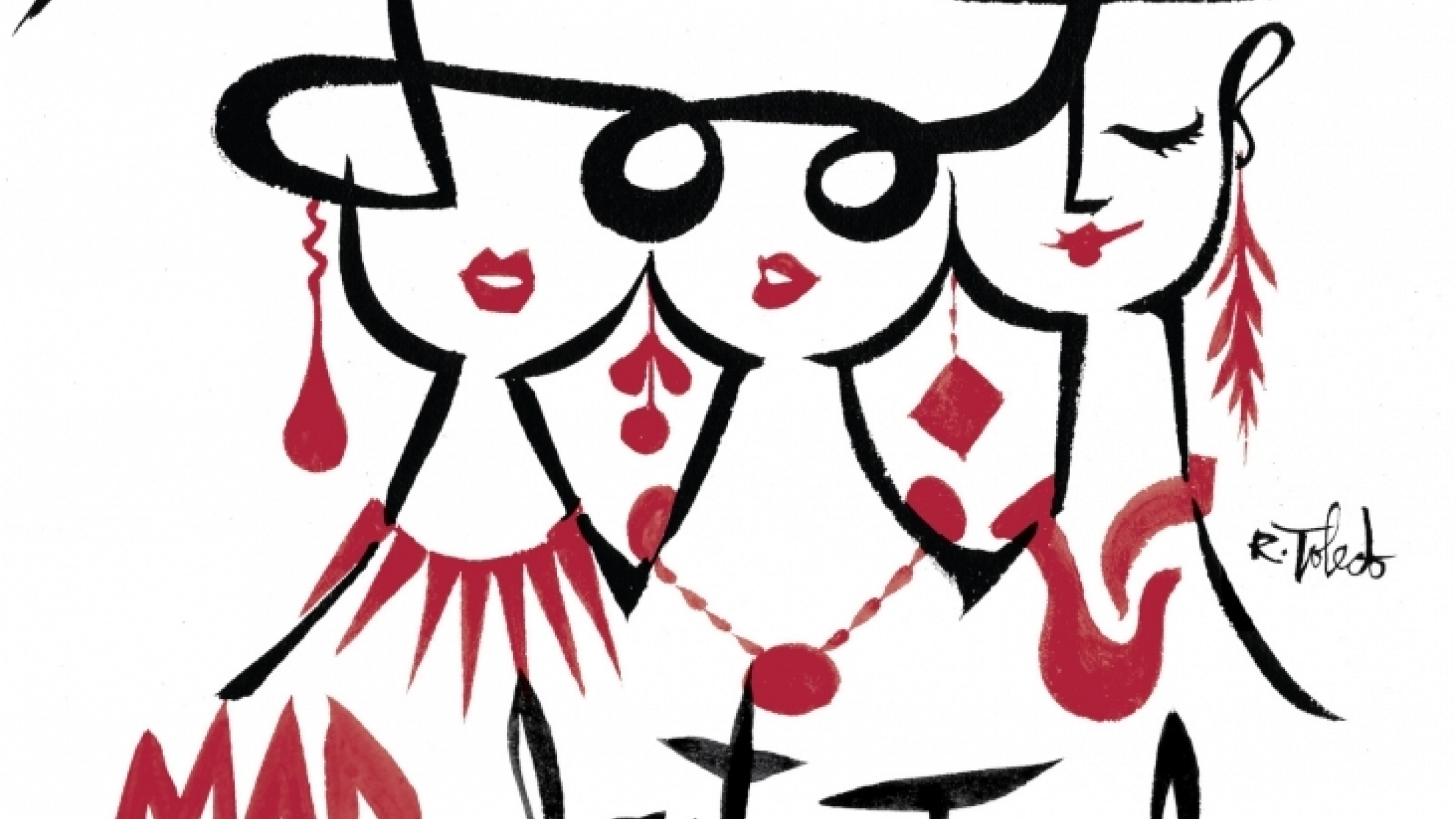 New York, NY (February 24, 2017)
From April 4 through 8, 2017, the Museum of Arts and Design (MAD) presents LOOT: MAD About Jewelry, the annual exhibition and sale of contemporary art jewelry. Now in its 17th edition, LOOT presents a cross-section of the most exciting cutting-edge art jewelry designs, while offering the public a rare opportunity to meet and acquire pieces directly from some of the most skilled creators in the field. A striking example of the evolving possibilities of jewelry as an art form, LOOT: MAD About Jewelry champions the vision and craftsmanship of outstanding art jewelers—most of whom have never before shown work in the United States.
A press preview and walkthrough will be held on Monday, April 3, 2017, at 2:30 pm. To RSVP, click here.
"This annual five-day pop-up store is a one-of-a-kind event," said Marsy Mittlemann, the 2017 LOOT Chairman. "I am thrilled to introduce these fifty-four contemporary jewelry artists to the New York City community. The opportunity to buy these unique pieces of jewelry, and to meet the artists while supporting the Museum and its mission, is very meaningful to me."
Each year, collectors and jewelry enthusiasts flock to MAD's LOOT event to learn about jewelers' processes, materials, and concepts, and to purchase works directly from their makers. With all of the designers present on site throughout the exhibition and sale, LOOT is one of New York's most unique museum experiences. Proceeds benefit MAD's exhibition and education programs.
"MAD and LOOT celebrate not only the work of artists, but also the artists themselves," said LOOT Curator Bryna Pomp. "The artists love relinquishing the relative isolation of their individual studios to discuss their jewelry with LOOT visitors and to meet their international colleagues. In this way, MAD fulfills its mission not only to the public but to the artists."
 
This year's edition welcomes 54 artists from 21 countries, the majority of whom have never been shown in New York. All were selected by Pomp following a full year of travel and research. For the first time, LOOT will feature three artists from Iceland and one from Romania. There will also be artists from Argentina (1), Austria (2), Belgium (1), Canada (1), Denmark (3), Finland (2), France (5), Germany (4), Greece (2), Holland (1), Israel (1), Italy (5), Korea (2), Norway (1), Portugal (1), Spain (2), United Kingdom (10), and United States (6).
"Each year, I seek to present materials that even I have not seen in my decades of work in the field of jewelry," said Pomp. "In each edition of LOOT, I strive to show as many different, unique materials as possible in addition to more traditional metals and semiprecious stones. The 2017 presentation includes driftwood, neoprene, marble, sheer plywood, textiles, ceramic, aluminum, beading, and acrylic. A significant trend this year is the use of recycled materials, including china tableware, plastic bottles and shopping bags, and even skateboards."
This year, over two dozen artists have designed jewelry using natural forms as their subjects. Artists showcasing their nature-inspired designs include Hebe Argentieri (Argentina); Katharina Eder (Austria); Ute van der Plaats (Belgium); Aino Favén (Finland); Silke Lazarević (Germany); Guðbjörg Ingvarsdóttir (Iceland); Mario Salvucci (Italy); Sowon Joo (Korea); Sunyoung Kim (Korea); Åse-Marit Thorbjørnsrud (Norway); Raluca Buzura (Romania); Ana Hagopian (Spain); Jane Adam (UK); Jacqueline Clarke (UK); Olivia Creber (UK); and Iradj Moini (USA). Visitors will meet Finnish artist Inni Pärnänen, who makes floral designs using sheer plywood, and English artist Rie Taniguchi, whose jewelry depicts animals and birds. Fellow English jewelry artist Olivia Creber uses molten metal with minerals, while French artist Delphine Nardin uses sea glass, gold, and silver to design jewelry inspired by the ocean. And Icelandic artist Helga Mogensen uses driftwood and visible threads to create unique statement necklaces.
LOOT: MAD About Jewelry reflects the Museum of Arts and Design's commitment to the exploration of materials and process, as well as its long-standing presentation of jewelry as an art form. MAD is the only American museum with a gallery dedicated to the display of both temporary jewelry exhibits and its own collection of contemporary and modern studio and art jewelry.
ARTIST HIGHLIGHTS
THE LOOT ACQUISITION PRIZE
Awarded by a jury, the LOOT Acquisition Prize seeks to recognize a LOOT jewelry artist whose work reflects a maturity in artistry and concept; exhibits both a superior and experimental understanding of materials and form; and demonstrates expertise in technique and execution. The 2017 jury is chaired by William and Mildred Lasdon Chief Curator Shannon R. Stratton, Assistant Curator Barbara Paris Gifford, and LOOT Curator Bryna Pomp. The 2017 LOOT Acquisition Prize will be awarded on April 3 at the Opening Benefit dinner.
The Museum of Arts and Design's jewelry collection comprises more than 900 pieces of art jewelry from the mid-century to the present. The LOOT Acquisition Prize formalizes the Museum's goal of enhancing its collection by acquiring jewelry from artists who have made significant contributions to the field and whose work provides historical context for MAD's mid- to late-twentieth-century pieces, as well as from emerging artists who are an important force in the contemporary art jewelry scene.
The inaugural LOOT Acquisition Prize was awarded to designer Alena Willroth in 2016. Past LOOT artists who have had works acquired by the Museum include the well-established art jeweler Iris Nieuwenburg and the emerging jewelry artist Casey Sobel.
THE LOOT AWARD AND OPENING BENEFIT
Each year, the LOOT Award is presented to luminaries in the field of jewelry, including artists, collectors, and designers. This year's honorees are Camilla Dietz Bergeron, Francine LeFrak, and Kara Ross. Previous recipients include Iris Apfel, collector Barbara Berger, jewelry designer Joan Hornig, fashion designer Kay Unger, and artists Joyce Scott and Axel Russmeyer.
World-renowned English fashion designer Dame Zandra Rhodes is the 2017 Honorary Chair and will attend the annual exhibition and sale, as well as the LOOT Opening Benefit. "I cannot wait to experience the jewelry firsthand," said Rhodes, who expressed enthusiasm for the exhibition's approach to promoting modern-day works of art.
"Jewelry is my main accessory, and one of the most important parts of my wardrobe apart from my own clothes," Rhodes said. "Quite often, the jewelry is the talking point. My collection of modern jewelry and ceramics was my first step to surrounding myself with fabulous modern-day works of art. To me, collecting jewelry is equally as important as collecting paintings."
In 2016, the Honorary Chair was internationally renowned fine jewelry designer Angela Cummings.
For LOOT 2017 Benefit Event honoree biographies, click here.
The LOOT 2017 Opening Benefit takes place on Monday, April 3. The evening's events include first access for patrons to meet the 2017 LOOT artists and acquire their designs; a cocktail reception; and a dinner honoring the 2017 LOOT Award recipients. The exhibition will be on view and cocktails served from 4:30 until 8:00 pm. The dinner, at MAD's ROBERT restaurant, begins at 7:30 pm.
To purchase tickets to the LOOT 2017 Opening Benefit, click here.
For questions regarding LOOT 2017, please call Rebekka Grossman at 212.299.7712 or email rebekka.grossman@madmuseum.org.
NOTE TO EDITORS
A full list of artists is included below. Bios and images of their work may be found at madmuseum.org/loot.
Bios for the Honorees receiving this year's LOOT Award can be found here.

EXHIBITION AND SALE HOURS
Tuesday, April 4: 10 am to 7 pm
Wednesday, April 5: 10 am to 8 pm
Thursday, April 6: 10 am to 9 pm
Friday, April 7: 10 am to 6 pm
Saturday, April 8: 10 am to 6 pm
LOOT takes place at the Museum of Arts and Design, 2 Columbus Circle, New York City.
Entrance is free with Museum admission.
Corporate Sponsor: Paolo Costagli
Media Partner: Avenue Magazine
ABOUT CORPORATE SPONSOR: PAOLO COSTAGLI
Paolo Costagli New York is a fine jewelry brand recognized for its sophisticated, modern, and distinctly bold designs. The essence of the Paolo Costagli brand is to be as current as the woman who wears it. At its core is the creativity and technical expertise of its founder, Paolo Costagli. The Italian landscape and architectural details of his upbringing in Florence and Venice are evident in his creations: clean geometries, an acute attention to proportions, and unique color combinations.
Regarded as an authority on color gemstones and rare diamonds, Costagli studied to become a Graduate Gemologist at the renowned Gemological Institute of America. He then pushed further, beyond the laboratory and standard course of studies, to experience firsthand the unearthing process. This unusual experience of formal studies combined with an applied knowledge formed a dynamic background, and Costagli has an understanding of the fine jewelry industry that is truly rare. His talents as a designer and expertise as a gemologist have been recognized by the most influential institutions in the industry. His iconic Brillante® collection was awarded the Couture Design Award in the Gold Category the year that the collection debuted at the Couture Show. His gemstone creations are also celebrated for their unique settings and quality of materials, and the Eternitá capsule collection was awarded the InDesign Award in 2016.
The Paolo Costagli collection is so avant-garde in its design, executed at the most elevated level of craftsmanship while using the most exquisite materials, that it blurs the line dividing fine jewelry and art. A testament to this is a bracelet from the Brillante® collection, part of the Museum of Arts and Design's permanent collection. At LOOT this year, Paolo Costagli New York will be debuting the never-before-seen Silver Collection, inspired by the brand's award-winning Brillante® collection.
ABOUT THE MUSEUM OF ARTS AND DESIGN
The Museum of Arts and Design (MAD) champions contemporary makers across creative fields and presents the work of artists, designers, and artisans who apply the highest level of ingenuity and skill. Since the Museum's founding in 1956 by philanthropist and visionary Aileen Osborn Webb, MAD has celebrated all facets of making and the creative processes by which materials are transformed, from traditional techniques to cutting-edge technologies. Today, the Museum's curatorial program builds upon a rich history of exhibitions that emphasize a cross-disciplinary approach to art and design, and reveals the workmanship behind the objects and environments that shape our everyday lives. MAD provides an international platform for practitioners who are influencing the direction of cultural production and driving twenty-first-century innovation, and fosters a participatory setting for visitors to have direct encounters with skilled making and compelling works of art and design. The Museum will be celebrating its Diamond Jubilee 60th Anniversary this year.
For high-resolution images, visit our press image archive:
http://press.madmuseum.org
User ID: mad Password: media
#LOOT2017 @madmuseum
2017 LOOT ARTISTS
Contacts
Wendi Parson
Deputy Director, Communications and Marketing
212.299.7749
Iman Nelson
Marketing and Media Relations Manager
212.299.7733
Email: press@madmuseum.org
Additional Contact
Image Archive
Press List
Additional Material