The Distinctive City of Baltimore to be Showcased in MAD's Winter Cinema Series
'It Came From Baltimore' Features Screenings of Works by John Waters, 'The Wire' creator David Simon, Terry Gillian, Brad Mays, Charles S. Dutton and Matthew Porterfield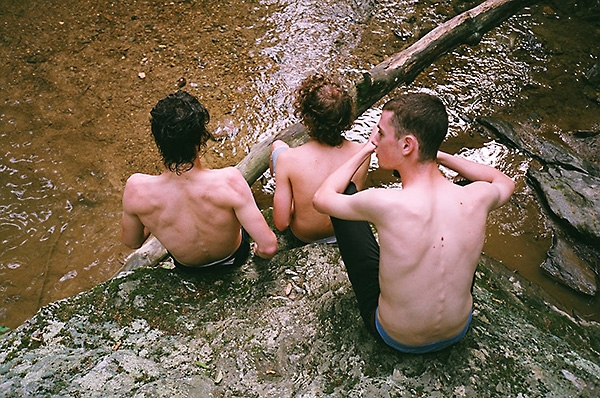 New York, NY (October 24, 2014)
This winter, the Museum of Arts and Design is pleased to present It Came from Baltimore: 40 Years of Cinema from the Charm City, from November 21, 2014 through March 5, 2015. For decades, Baltimore has fostered some of America's most significant creative talents and earned monikers ranging from "monumental city" and "charm city" to "Mobtown." As a result of this unique identity, Baltimore has cultivated an active and illustrious arts community and become a significant hub and source of inspiration for generations of cinéphiles. Featuring a selection of films set and shot in Baltimore since the 1970s, It Came from Baltimore offers a dynamic cinematic portrait of the city.
"Baltimore's idiosyncrasies and residents have inspired the creation of some of the most powerful American cinematic works," says Jake Yuzna, MAD's Director of Public Programs. "From large-scale feature films to independent projects and television series, time and again filmmakers have responded to Baltimore's unique character as a city. It Came from Baltimore will give Museum visitors a sense of the influence the city continues to have on the filmmaking community."
Beginning with John Water's transgressive cult-classic, Pink Flamingos (1972), on Friday, November 21, the series will present five screenings, one for each decade since 1970. It includes Director Brad Mays' Stage Fright (1989), which captures the struggles of the Baltimore theater community in the late 1980s; Terry Gillian's iconic science fiction film, 12 Monkeys (1995); all six episodes of Baltimore native and creator of HBO's The Wire David Simon's Emmy Award winning miniseries, The Corner (2000); and Putty Hill (2010), Matthew Porterfield's acclaimed independent feature film starring amateur actors from Baltimore.
About the Series
It Came from Baltimore: 40 Years of Cinema from the Charm City is organized by MAD's Director of Public Programs Jake Yuzna. Tickets and more information are available by calling 1-800-838-3006 or visiting http://madmuseum.org/series/it-came-baltimore-40-years-cinema-charm-city.
Screening Schedule
Pink Flamingos
Friday November 21, 2014, 7pm
$10 General, $5 MAD Members and students with a valid ID
1972, Dir. John Waters
With Divine, David Lochary, Mink Stole and Edith Massey
93 min, 35mm
Filmed in the Baltimore suburbs, John Waters' underground cult sensation, Pink Flamingos stars drag icon Divine as Babs Johnson, who holds the title of "the filthiest person alive." When competition brews in the form of Connie and Raymond Marble and their scandalous exploits, Babs and her motley crew seek to defend their title at all costs.
Stage Fright
Friday, December 5, 2014, 7pm
$10 General, $5 MAD Members and students with a valid ID
1989, Dir. Brad Mays
With Rick Hammontree, Susan Rome and Greg McClure
71 min, digital projection
When notorious playwright Grayson Osterman (Rick Hammontree) returns after a long hiatus to the Baltimore-based Storefront Theatre with a shocking new play, one of his leads suffers from a mental breakdown and threatens the play's success three days before its much-heralded premiere. Loosely fashioned after the now-defunct Corner Theatre ETC, this dark comedy captures the struggles of Baltimore's theater community in the late 1980s.
12 Monkeys
Thursday, January 22, 2015, 7pm
$10 General, $5 MAD Members and students with a valid ID
1995, Dir. Terry Gilliam
With Bruce Willis, Madeleine Stowe and Brad Pitt
129 min, 35mm
Shot in Baltimore, 12 Monkeys presents one of America's great auteurs' few studio features. Director Terry Gilliam, renowned for films including Brazil, Fear and Loathing in Las Vegas, and Monty Python and the Holy Grail, once again turns his attention to the science fiction genre with this cult classic. In 2035 an unknown virus has wiped out all but 1% of humanity, who have fled underground to survive. When the convict James Cole (Bruce Willis) reluctantly sends himself back in time to 1990 to learn about the origin of the epidemic, he stumbles into a mystery that may reveal his own connections to the end of the civilized world.
The Corner
Episodes 1 and 2: Friday, February 6, 2015, 7pm; encore screening Thursday, February 19, 2014, 7pm
Episodes 3 and 4: Thursday, February 12, 2015, 7pm; encore screening Friday, February 20, 2014, 7pm
Episodes 5 and 6: Friday, February 13, 2015, 7pm; encore screening Friday, February 27, 2014, 7pm
All screenings are free
2000, Dir. Charles S. Dutton
With T.K. Carter, Khandi Alexander, Sean Nelson and Clarke Peters
Digital projection
Before he created HBO's The Wire, former journalist, author and Baltimore native David Simon created the multiple Emmy Award winning miniseries The Corner, based on the nonfiction book The Corner: A Year in the Life of an Inner-City Neighborhood that he co-authored with Ed Burns. Focusing on the junction of West Fayette Street and North Monroe Street in West Baltimore, The Corner paints a poignant, tender and unflinchingly honest portrayal of a family residing in poverty among the open-air drug markets of West Baltimore.
Putty Hill
Thursday March 5, 2015, 7pm
$10 General, $5 MAD Members and students with a valid ID
2010, Dir. Matthew Porterfield
With Sky Ferreira, Zoe Vance, Cody Ray and Dustin Ray
85 min, digital projection
Focusing on the after-effects of the untimely death of a young man named Corey, the independent feature film Putty Hill is representative of the latest generation of filmmakers from Baltimore and stars amateur actors from the city. Premiering at the Berlin Film Festival, Putty Hill received four out of four stars by Roger Ebert as well as a New York Times Critic's Pick for its uniquely intimate portrayal of the impact of a sudden tragedy on a community.
ABOUT THE MUSEUM OF ARTS AND DESIGN
The Museum of Arts and Design (MAD) champions contemporary makers across creative fields, presenting artists, designers, and artisans who apply the highest level of ingenuity and skill to their work. Since the Museum's founding in 1956 by philanthropist and visionary Aileen Osborn Webb, MAD has celebrated all facets of making and the creative processes by which materials are transformed, from traditional techniques to cutting-edge technologies. Today, the Museum's curatorial program builds upon a rich history of exhibitions that emphasize a cross-disciplinary approach to art and design, and reveals the workmanship behind the objects and environments that shape our everyday lives. MAD provides an international platform for practitioners who are influencing the direction of cultural production and driving 21st-century innovation, fostering a participatory setting for visitors to have direct encounters with skilled making and compelling works of art and design.
For high-resolution images, visit our press image archive:
User ID: mad
Password: media
Contact
Claire Laporte
Chief External Affairs Officer
Christina Allan
Communications Associate
Tel: 212.299.7737
Email: press@madmuseum.org