Seeing is Believing by Judith Schaechter
2nd floor | East stairwell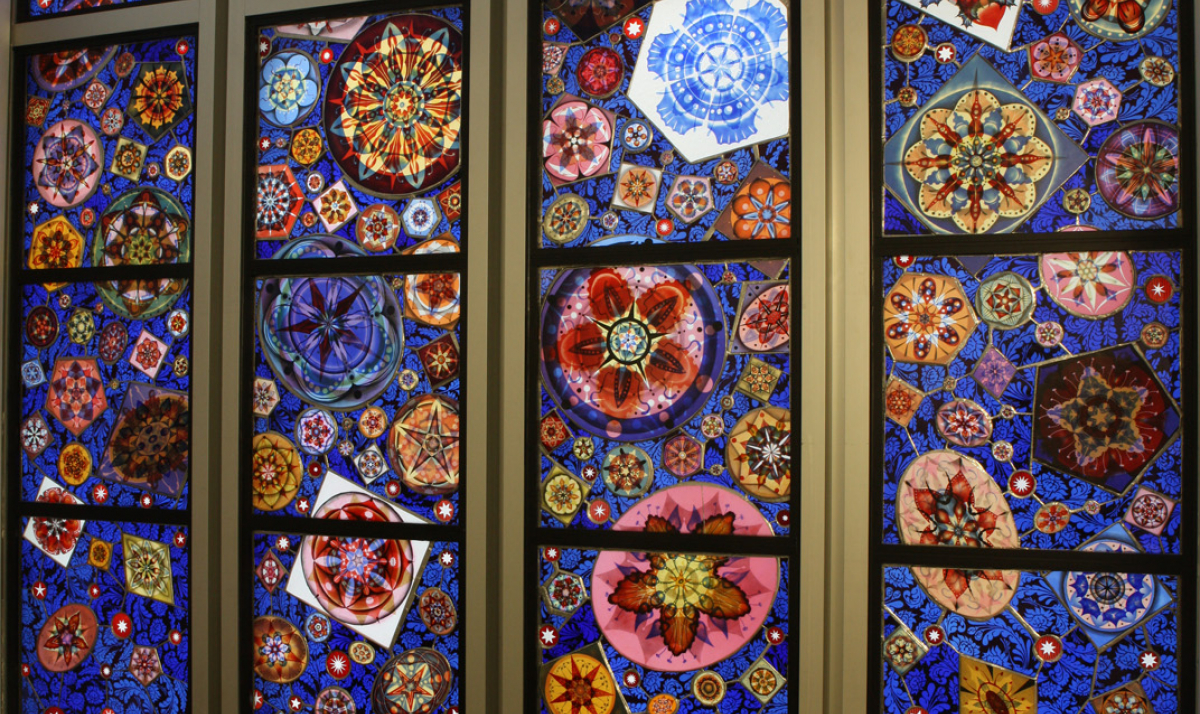 Judith Schaechter
click image to enlarge
Judith Schaechter

click image to enlarge

Judith Schaechter

click image to enlarge
About the Exhibition
Judith Schaechter's stained-glass windows feature icons of contemporary life. Rather than the saints of traditional stained glass, Schaechter focuses on images of waifish women with large, sad, sunken eyes, whom she depicts in various states of conflict and transcendence. She taps into subconscious fears, dreams, and longing through her iconography, setting these protagonists against patterned backgrounds featuring natural imagery, fantastical animals, and geometric designs. Such elements bring to her work a seductive beauty that facilitates engagement with difficult subjects. Additionally, the patterned ground serves as a storytelling tool, creating context for the figural protagonist through the use of symbolism and supporting characters. The artist said that her backgrounds often imply the "possible psychological state, a hallucination, a dream, or even a visual representation of [the figure's] speech."*
Schaechter's early career paralleled the high point of the Pattern and Decoration movement, which championed the use of ornamentation and female-driven subject matter in order to fight the legacy of male-dominated Modernist austerity. Her commission for the Museum of Arts and Design, Seeing is Believing, installed in 2008 when the Museum opened the doors to its new building, exploits the power of such patterning, in the form of two hundred unique, geometric images that evoke infinitely variable snowflakes, and brings to the fore what would usually be reserved for background design. Schaechter's work taps into the long-standing connection between stained glass and light that manifests itself in a sense of spirituality or holiness. Seeing is Believing is a contemporary reimagining of the medieval rose window, as evidenced in the kaleidoscopic arrangement of color and pattern.
*Judith Schaechter, "The Stigma of Beauty, the Stain of Glass," Cleaver Magazine 14 (June 8, 2016). https://www.cleavermagazine.com/the-stigma-of-beauty-the-stain-of-glass-glass-art-by-judith-schaechter/.
Collections
Did you know that over 95% of MAD's permanent collections is accessible online with high resolution images? Click here to see the collection.