Ralph Pucci: Mannequins and Display
An Installation by Isabel and Ruben Toledo
Mar 31–Oct 25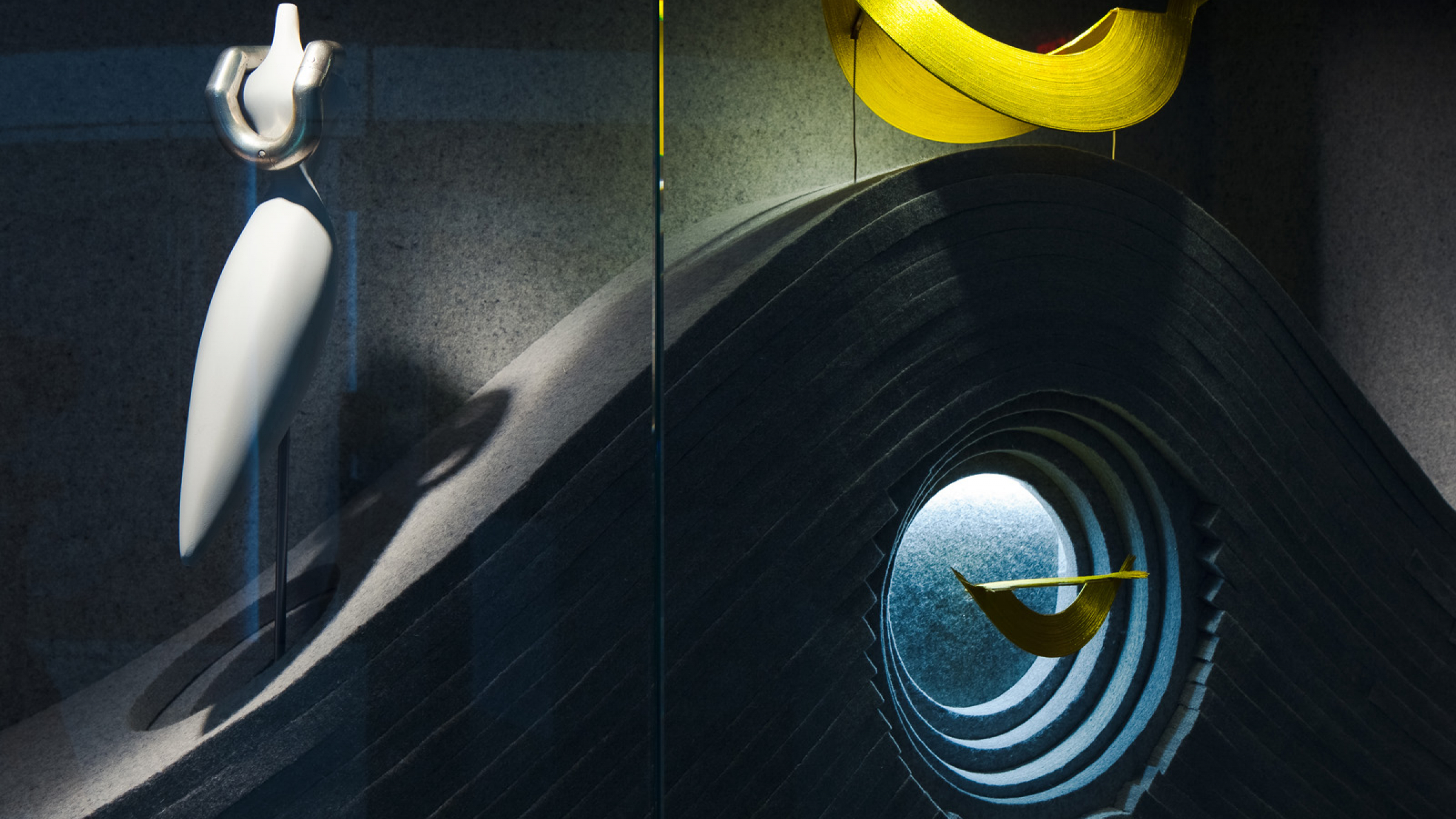 Designed and curated by Isabel and Ruben Toledo, the Tiffany & Company Foundation Jewelry gallery features mannequins that Ruben Toledo created for Ralph Pucci to display accessories and jewelry.
The Toledos have transformed the existing cases into a Surrealist landscape that imagines the undulating surface of the moon, covered with crusted layers and punctuated by sinkholes. The moonscape is inhabited by various mannequins that are hybrids of birds and women and showcase a selection of historical Moroccan and Asian jewelry pieces, drawn from MAD's Daniel and Serga Nadler collection. The elliptical cases in the center of the gallery include drawings and designs by Ruben Toledo and jewelry from MAD's contemporary jewelry collection. The installation was inspired by photographs taken between 1991 and 2003 by Josef Astor; these images can be seen on the monitor in this gallery.
The Toledos' selection from MAD's jewelry collection relates in several ways to the main gallery of the exhibition Ralph Pucci: The Art of the Mannequin. The pieces date to the same time period as the mannequins on display—from the 1980s to today—and show a similarly inventive and adventuresome approach to material and form. The twisted and manipulated metal found in several pieces from the Daniel and Serga Nadler Collection echoes the mannequin armatures on display in the museum's re-creation of the Pucci Studio.
Artist Ruben Toledo (Cuba, b. 1961) and fashion designer Isabel Toledo (Cuba, b. 1961) live and work in New York City. They have been the subject of various publications and museum exhibitions including A Marriage of Art and Fashion (Kent State University Museum, 1998) and Fashion from the Inside Out (Fashion Institute of Technology, 2009). They received a Cooper-Hewitt National Design award in 2005 and the Couture Council award in 2008, among many other honors. For over 30 years they have collaborated on design projects as varied as fashion collections, ceramic wares, and costumes for Broadway, which garnered Isabel Toledo a Tony Nomination in 2014. The design of this gallery is the most recent example of their work as a collaborative team.