Chris Antemann
Forbidden Fruit
Sep 22, 2016–Feb 5, 2017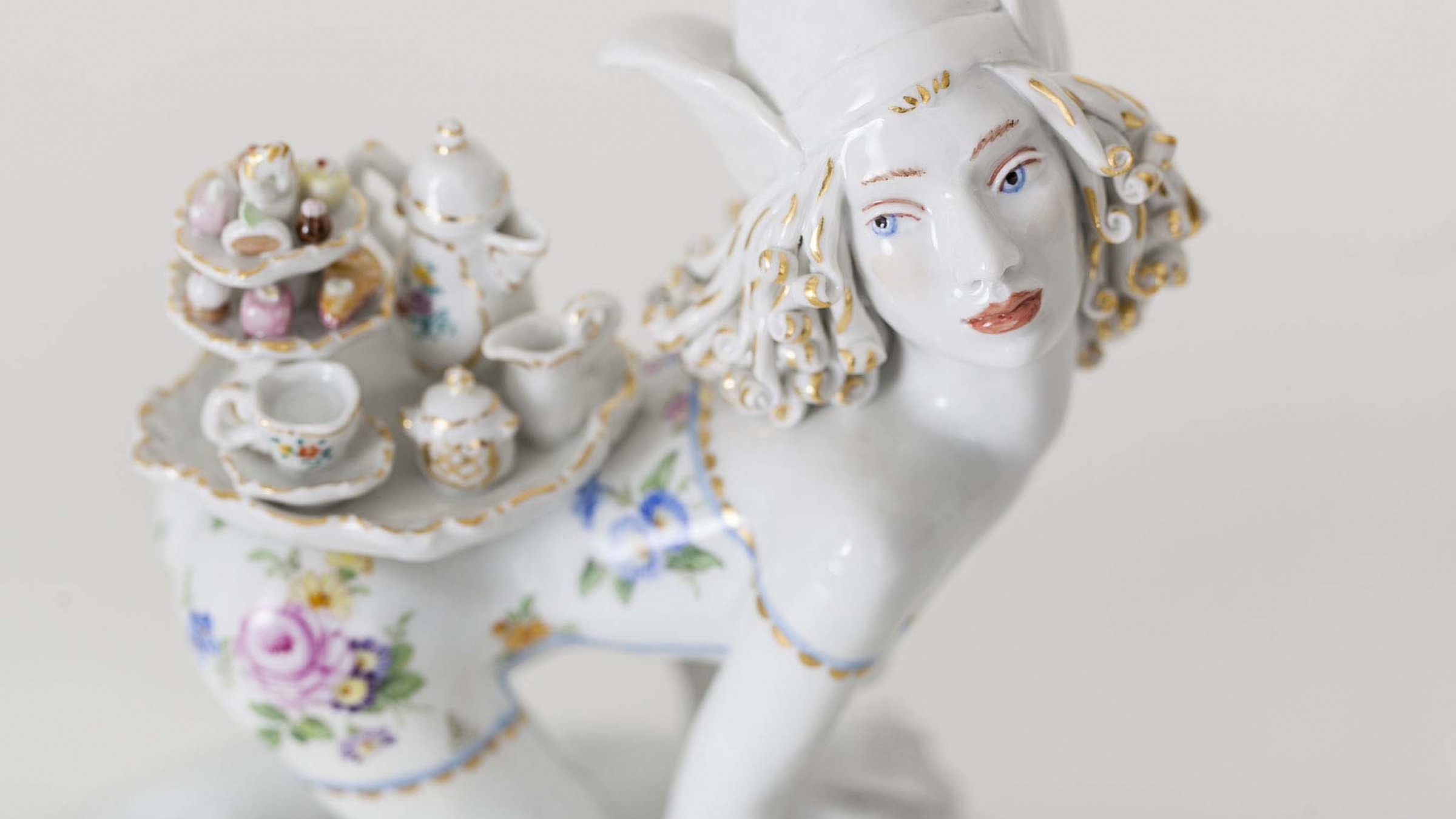 Chris Antemann: Forbidden Fruit celebrates the collaboration between Oregon-based artist Chris Antemann and the renowned MEISSEN Porcelain manufactory. In 2011 Antemann was invited to participate in MEISSEN's Art Studio Program, where she worked closely with MEISSEN's master artisans to create unique pieces and a series of limited editions that strike a perfect balance between her distinctive style and MEISSEN's identity. These pieces are arranged in Forbidden Fruit as a grand installation that reinvents and invigorates the great figurative tradition.
Inspired by eighteenth-century porcelain figurines and decorative art, Antemann's delicate and intricately detailed sculptures are lavishly presented on a central banquet table alongside a selection of stand alone sculptures and a nine-light porcelain chandelier. Her centerpiece, Love Temple (2013), is inspired by MEISSEN's great historical model of Johann Joachim Kändler's monumental Love Temple (1750). Stripping the original design back to its basic forms, Antemann added her own figures, ornamentation, and flowers to her five-foot work, as well as a special finial with three musicians to herald the arrival of guests to the banquet of "forbidden fruit" below.
Using the Garden of Eden as her metaphor, Antemann has created a contemporary interpretation of the eighteenth-century banqueting craze by inserting her scantily clad male and female figures. Posed in intimate and playful vignettes of seduction, Antemann's figures convey narratives of domesticity, social etiquette, and taboos while making formal references to classic Baroque MEISSEN figurines. The ceramist invents a new narrative on contemporary morality in a setting that evokes the decadence of François Boucher and Jean-Antoine Watteau.
Chris Antemann: Forbidden Fruit is a traveling exhibition organized by Chris Antemann. The artworks were produced with Antemann by the MEISSEN Porcelain Manufactory in the MEISSEN Art Campus. It was secured for the Museum of Arts and Design by William and Mildred Lasdon Chief Curator Shannon R. Stratton with the support of Curatorial Assistant and Project Manager Angelik Vizcarrondo-Laboy.
Support for Chris Antemann: Forbidden Fruit is generously provided by Arlene Schnitzer and Jordan Schnitzer, Joan and Alan Safir, Sandra Kissler and Mort Weinstein, Dorothy Saxe, and MEISSEN®.
Chris Antemann: Forbidden Fruit is part of MAD Transformations, a series of six exhibitions presented this fall that address artists who have transformed and continue to transform our perceptions of traditional craft mediums. Building upon the exhibition Voulkos: The Breakthrough Years, which celebrates the work of an artist known for drastically changing the way clay is categorized as an art material and discipline, the MAD Transformations exhibitions consider fiber, clay, and jewelry and metals—disciplines (along with glass and wood) that compose the bedrock of the Museum of Arts and Design's founding mission and collection, and that continue to morph in the hands of contemporary artists today.