Project Space | Wallpaper Edition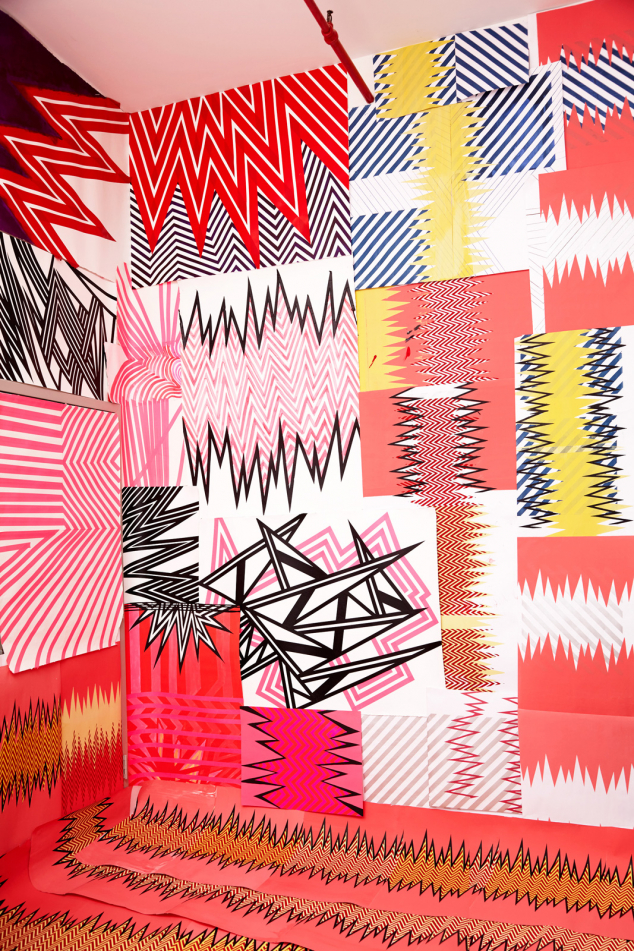 Program Details
Thursday, January 28, 2016 - 6:00 pm to 9:00 pm
Free with Pay-What-You-Wish Admission
6th floor, MAD
Thursday, January 28, 2016 - 6:00 pm
Program Description
MAD Studio Artist, Liz Collins, will occupy The Print Shop for an evening demonstration on how to create screen-printed editions of wallpaper design. Using a stenciled three-screen printing process, she will create a dynamic pattern that repeats horizontally and vertically across a continuous expanse of printed paper.
Collins creates spaces where her art and applied design coexist: the painting is a rug is a blanket is wallpaper is a chair is a sculpture. Her pieces express extremes and contrasts: hard/soft; disorder/order; tension/release; darkness/blinding light. Explosions, vibrations, and optical phenomena materialize in line and shape and then align themselves with precision through a concurrent process of renewal and decay. She often employs graphic, abstract, and ordered geometries which are meant to evoke both chaos and calm.
Using the graphic language of her current body of work, Collins will produce several lengths of printed paper that hold a repeating pattern. As the lengths of paper are printed and hung up to dry, Collins will transform The Print Shop into a temporary wallpaper installation, allowing visitors to see how screen printed images are comprised of layered shapes and colors that together create more complex images.