Teens | Teen Night @MAD
Flashy and Free
A total teen takeover in celebration of fashion at MAD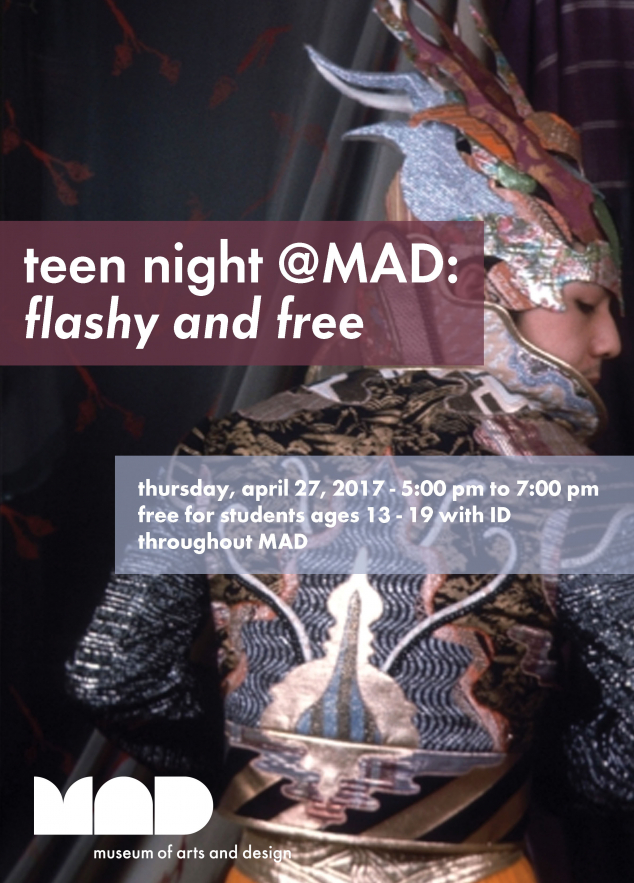 Program Details
Thursday, April 27, 2017 - 5:00 pm to 7:00 pm
Free for students ages 13 - 19 with ID
Throughout MAD
Thursday, April 27, 2017 - 5:00 pm
Program Description
Grab your friends and join us for Teen Night @MAD: Flashy and Free, an evening of fashion at the Museum of Arts and Design. Come support local teen designers and photographers, show off your own creations, and join in on gallery conversations, art making, snack-eating, and other hands-on activities in celebration of self-expression. 
Release your inner flower child with our flower crown workshop, inspired by the 1960s counterculture.
Explore your creative side by decorating tote bags and crafting with denim to celebrate the process of fashion creation and deconstruction.
Luxuriate the galleries and learn more about '60s and '70s fashion with our for-teens-by-teens tours. 
Unravel your emotions as you knit, embroider, and vent during a special "Stitchin' N Bitchin'" session!
Strut your stuff while rocking out in your finest teen couture, stop by our fashion photoshoot, and enjoy sweets and treats.
Teen Night @MAD celebrates MAD'S newest exhibition Counter-Couture: Handmade Fashion in an American Counterculture. This exhibition celebrates the handmade fashion and style of the 1960s and '70s. Explore a popular culture that embraced ideals of self-sufficiency and self-expression.