Cinema | Safe Disassembly + Other Works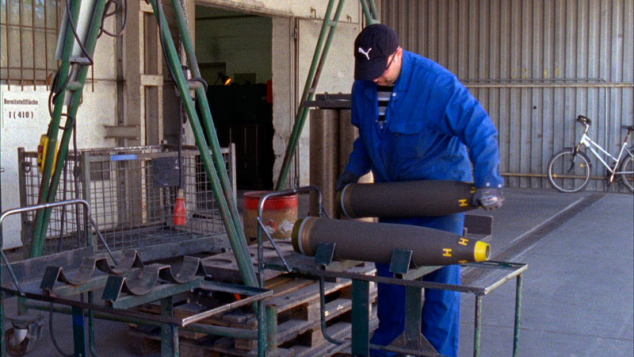 Safe Disassembly + Other Works
click image to enlarge
Safe Disassembly + Other Works

click image to enlarge

Safe Disassembly + Other Works

click image to enlarge

Safe Disassembly + Other Works

click image to enlarge

Safe Disassembly + Other Works

click image to enlarge

Safe Disassembly + Other Works

click image to enlarge
Program Details
Friday, April 29, 2016 - 7:00 pm
$10 general / $5 members and students
The Theater at MAD
Friday, April 29, 2016 - 7:00 pm
Program Description
(Andreas Bunte, Germany)
78mins, Digital & 16mm Projection
Safe Disassembly (2015, Germany, 37mins)
Shot on static 16mm film with colorful light leaks and jarring bursts of mechanized sound, Andreas Bunte's third film about pressure documents an elaborate assembly line of factory workers diffusing bombs. Safe Disassembly follows the careful division of cluster munitions into individual, non-dangerous components, and reveals the highly specialized procedures and equipment this process entails. The director painstakingly details this partially automated practice, working in tandem with precise human oversight and involvement. The film explores disassembly as both constructive and deconstructive, the camera lingering on the machinery necessary for safe diffusion and disposal.
Other works in this program include: SUSPENDED DURATION (2014, Germany, 19mins), O.T. (KIRCHEN) (2012, Germany, 10mins) and LA FÉE ELECTRICITÉ (2007, Germany, 12mins), all by Andreas Bunte.
Courtesy of Andreas Bunte.