Recording a 'Green Book' Journey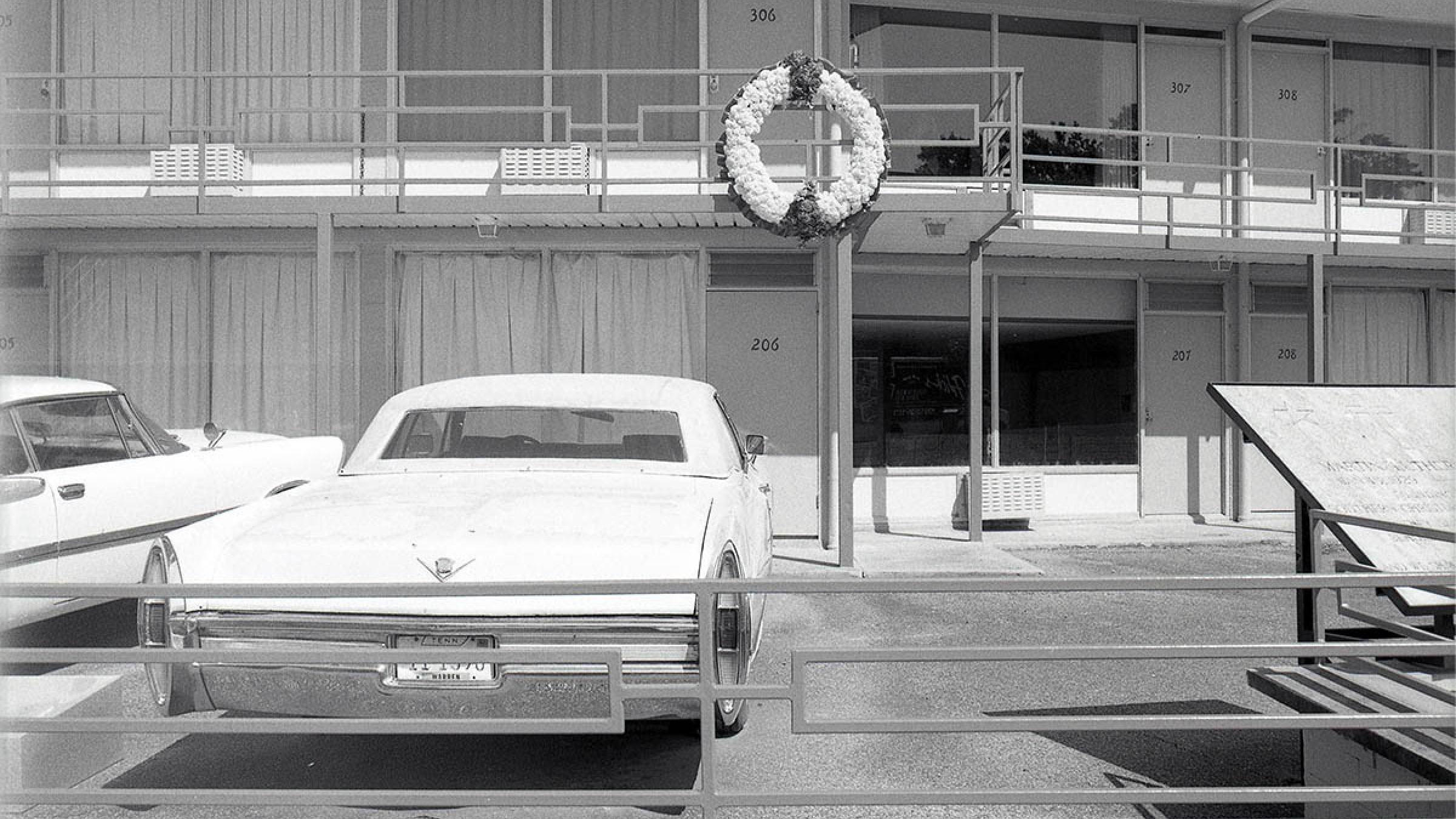 Join journalist Alvin Hall and photographer Jonathan Calm for a special presentation of their 2016 BBC Radio 4 documentary The Green Book, expanded and amended to include additional research, audio, and photographs. Their trip was inspired by Victor Hugo Green's revolutionary travel guide, The Negro Motorist Green Book, published annually between 1936 and 1967.
To collect material for their documentary, Hall and Calm (along with producer Jeremy Grange) set off on a road trip from Tallahassee, Florida (near Hall's hometown), to Ferguson, Missouri, following the historic Civil Rights Route. Hall and Calm visited many towns and sites along their route that had been featured in the Green Book, which helped black travelers locate safe and welcoming businesses during the Jim Crow era of racial segregation. Bearing witness to everyday individuals, historic sites, and remnants of a not-too-far-gone era, Hall and Calm's work is an informative and moving account of the historical and contemporary conditions of travel, safety, and justice for people of color in America.
In their presentation of the documentary and other works at MAD, Hall and Calm will share additional audio and images collected during their road trip, as well as subsequent work and research exploring related subject matter. A slide-show presentation of Calm's recent body of photographs, African-American Automobility: The Dangerous Freedom of the Open Road, will accompany the audio, and both Hall and Calm will participate in a post-presentation Q&A.
About the Presenters
A native New Yorker, Jonathan Calm is a visual artist working in photography and video whose work combines as well as challenges the aesthetic and ideological tenets of architecture, documentary journalism, and sculpture. A central theme of his work is the relationship between photography and urban architecture, and the powerful role images play in the way architectural constructs shape the lives of individuals and communities. Calm's art practice is international in scope and has been featured in numerous solo and group exhibitions, including Frequency at the Studio Museum in Harlem (2005); Role Play at Tate Britain (2006); Black Is, Black Ain't at the University of Chicago's Renaissance Society (2008); Streetwise at the Reina Sofia Museum, Madrid (2008), and the Chelsea Art Museum, New York (2011); the deCordova Biennial at the deCordova Sculpture Park and Museum, Lincoln, Massachusetts (2013); and Rooted Movements at LMAKgallery, New York (2014). His work has received significant mention in numerous publications, including the New York Times, Art in America, The New Yorker, the Village Voice, Artforum, and the Washington Post.
Alvin Hall is an award-winning television and radio broadcaster, best-selling author, and renowned financial educator. His work in radio includes The Green Book (BBC Radio 4), "Alvin Hall Goes Back to School" (The Takeaway, PRI with WNYC), and Who Sold the Soul? (BBC Radio 4). The former host of such BBC series as Your Money or Your Life and Alvin's Guide to Good Business, he has authored a number of best sellers, including You and Your Money: It's More than Just the Numbers, as well as the children's book Show Me the Money. Hall is currently completing a memoir about his childhood in the Florida Panhandle and developing several television series.
In accordance with the Mayor of New York City's Emergency Executive Order, all attendees are required to provide I.D. and proof of vaccination against Covid-19. Learn more about the Museum's health and safety protocols.