Workshops | Precious Metal Clay with Vera Lightstone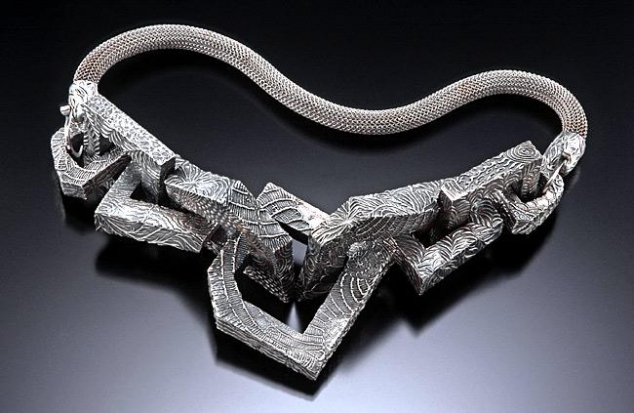 Big Links Necklace, Barbara Simon, 2006
Fine silver, stainless steel, sterling silver.
click image to enlarge
Program Details
Saturday, June 11, 2011 - 12:00 pm
SOLD OUT
6th floor - classroom, MAD
Saturday, June 11, 2011 - 12:00 pm
Program Description
Create and finish your own silver jewelry in an afternoon!  Precious Metal Clay, a crafting material developed in the 90's in Japan, is composed of small silver particles mixed with an organic binder.   After firing in a kiln, your final product is pure silver. Using the exciting possibilities of this amazing new medium, artist Vera Lightstone will help you mold and create fineries of your very own.
Fee includes materials and firing.
This workshop is currently SOLD OUT.  If you are interested in being added to a waitlist, please email public.programs@madmuseum.org
From large ceramic sculpture to graceful vessels, from unusual silver jewelry to arresting mounted silver sculpture, Vera Lightstone has worked and taught sculptural media for years. When Precious Metal Clay (PMC) arrived in this country from Japan, she became one of the first senior teachers and a delighted enthusiast. of this completely new medium -a clay-like material that fires quickly to silver and gold! She is certified with the PMC Guild and is a Senior teacher with PMC Connection, teaching advanced and beginners' workshops in her midtown Manhattan loft-studio to students from the New York Tri-State area and others who have flown into NYC from all over the country. She offer classes to those who have never used art silverclay, and want to discover this medium for themselves, to those artists looking to hone their skills, leverage the different properties of PMC, PMC+, PMC3 and Art Silver Clay, learn new techniques and work towards their own certification.