Open Studio Hour: Rhonda Weppler and Mia Wright-Ross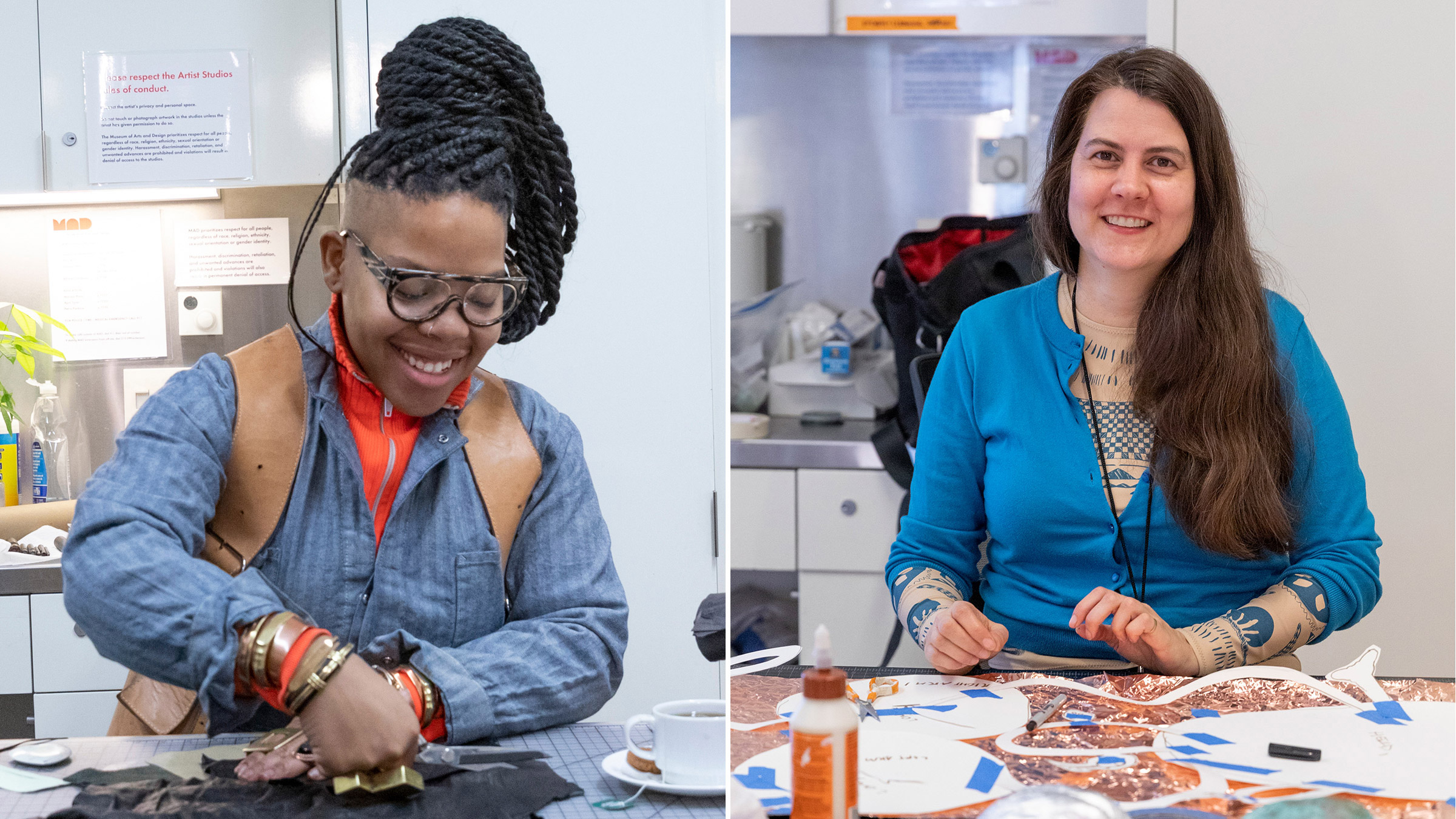 MAD's Artist Studios have gone online!
The Museum's artists-in-residence Rhonda Weppler and Mia Wright-Ross are hosting informal, virtual studio visits via Zoom webinar. Learn about new directions in contemporary art and design while joining the artists in their homes and studios. Preview works in progress and chat with Rhonda and Mia about their inspirations and creative practices.
Open Studio Hours take place on Fridays and welcome visitors of all ages, families, summer classes and camps, creative cohorts, aspiring artists, and more.
Established in 2008, MAD's Artist Studios program has served as an important platform for more than 180 artists and designers to advance their careers.
2:00-12:30 pm ET with Rhonda Weppler
12:30-1:00 pm ET with Mia Wright-Ross
ABOUT THE ARTISTS
Rhonda Weppler makes sculptural still lifes using the centuries-old technique of repoussé, in which a malleable metal is shaped by hammering from the reverse side to create a design in low relief. Embossing aluminum, brass, and copper foils on objects, Weppler creates residual shells that serve as commentary on the ephemerality of all things. Weppler presented an exhibition in collaboration with the MFA Boston's Community Arts Initiative, and has exhibited extensively across Canada with her frequent collaborator, Trevor Mahovsky. Weppler received an MFA from the University of British Columbia and a BA from the University of Toronto.
MAD Artist Fellow Mia Wright-Ross is a leather artisan, designer, educator, and entrepreneur. The leather cording techniques that appear as a signature motif across her luxury lifestyle brand, MWR Collection, also represent Wright-Ross' design philosophy—each material used is fundamental to the unity and completion of the design. Her handmade bespoke collection includes footwear, accessories, home goods, and furniture. Wright-Ross is the Creative Director and Founder of MWR Collection, and is currently a faculty member at Parsons School of Design. Previously, Wright-Ross was Footwear and Accessories Designer for brands including Tibi, 3.1 Phillip Lim, and Calvin Klein. She received a BFA in Fashion Design from Parsons The New School of Design, and has trained at the Ecco Tannery Holland and Arsutoria Institute in Milan.