Encounters | Liz Collins' KNITTING NATION 15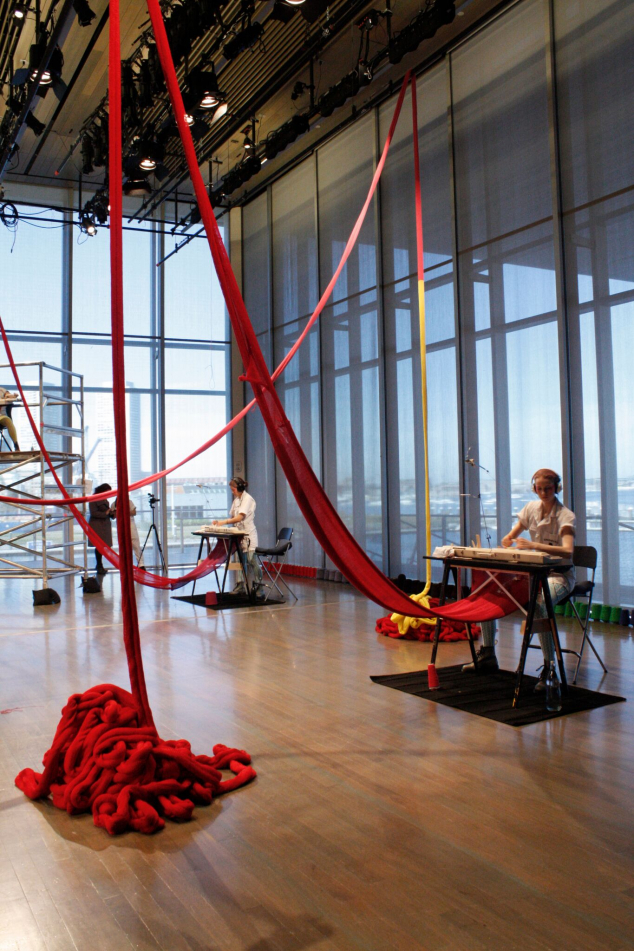 KNITTING NATION Phase 8: Under Construction (2012), Liz Collins
click image to enlarge
Program Details
Sunday, March 6, 2016 - 10:00 am to 4:00 pm
Free with Museum Admission
Barbara Tober Grand Atrium
Sunday, March 6, 2016 - 10:00 am
Program Description
Artist Liz Collins will present KNITTING NATION 15, a site-specific installation and live labor performance and the 15th iteration of her ongoing KNITTING NATION project. Collins' installation will turn the museum space into a knitting and weaving factory, while revealing the dynamic and rich relationship between textiles and architecture. The atrium's open stairwell will be transformed into a large tapestry as her factory crew weaves a continuous soft wall that grows in height as the day progresses. 
Presented in conjunction with the exhibition In Time (The Rhythm of the Workshop), which explores the relationships between materials, bodies and value in industrial manufacturing, KNITTING NATION foregrounds the human labor behind textile fabrication and apparel manufacturing, and acts as a commentary on the relationship between humans and machines, global manufacturing, trade, labor and more.
Collins' has enacted her KNITTING NATION installations in a variety of locations, including museums like MoMA in New York and the Institute of Contemporary Art in Boston, colleges like the Rhode Island School of Design and Skidmore, and a number of public spaces. During these live performances, the knitting process acts as a large scale, three-dimensional plotting and painting apparatus. Collins has gained international recognition for her machine knitting work, and has exhibited and performed extensively throughout the United States and abroad.