Performance | Karen Mirza and Brad Butler's The Museum of Non Participation: The Guest of Citation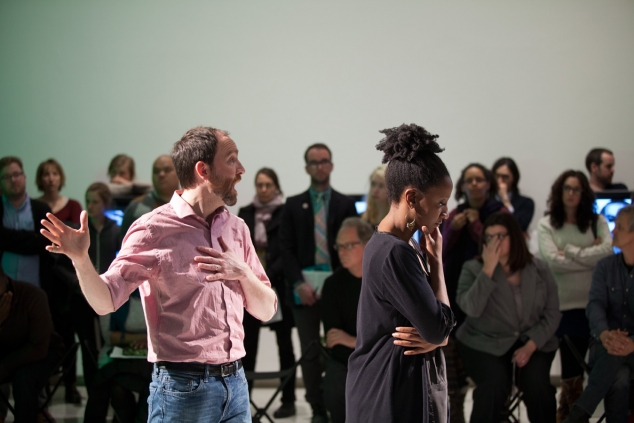 Program Details
Tuesday, November 19, 2013 - 7:00 pm
Free
7th floor, MAD
Tuesday, November 19, 2013 - 7:00 pm
Program Description
The Museum of Non Participation is a fictional museum by London-based artists Karen Mirza and Brad Butler. Made up of film, sound, text, and performed actions, the Museum of Non Participation serves as the conceptual platform from which to question and challenge current conditions of political involvement and resistance. 
For Performa 13, the 2013 NYC biennial of performance art, Mirza and Butler invite local residents to work within the Museum of Non Participation to create and intervene in the Brechtian short "learning" play, "The Exception and the Rule." The "rule" referred to in the title implies a legal language or a directive, while the "exception" evokes being ungovernable, or searching for an alternative to either the state or the free market. Together, they suggest that the rule cannot exist without the exception; the terms also pose a question as to what qualifies as a state of exception.
Through the story of a merchant and his servant, "The Exception and the Rule" explores themes of capital and petropolitics, labor and hierarchy, and legislation and state ideology. Mirza and Butler invite you to attend, and to explore and enact how these themes play out in our daily lives. You are encouraged to enter into the play with a spirit of mutual enrichment and collaboration, wherein personal experiences/expertise and collective interpretation ultimately converge in a public performance.
Players: Dayle Berke, Hilary Davies, Rigoberto Lara Guzman, Jesse Hlebo, Sarah Matusek, Tina Schula, Betsy Shevey, Alaina Stamatis, Dennis Stevens, and Jake Yuzna
DUE TO WEATHER, THIS PERFORMANCE WILL TAKE PLACE AT THE MUSEUM OF ARTS AND DESIGN