Workshops | Design Happy Hour: Styling Punk Graphics with Julia Gorton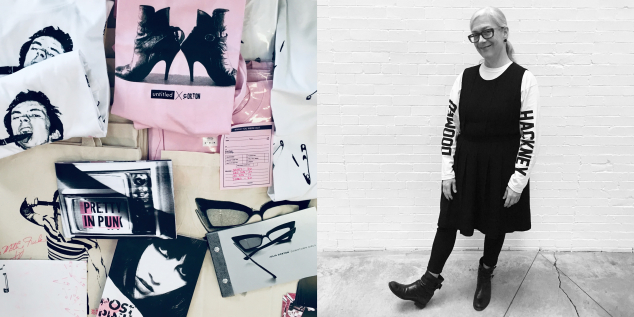 Program Details
Wednesday, July 17, 2019 - 6:30 pm to 8:30 pm
SOLD OUT
Wednesday, July 17, 2019 - 6:30 pm
Program Description
Take a break from the work week and stretch your creative skill set in our Design Happy Hour workshop inspired by the  punk graphics on view in the exhibition Too Fast to Live, Too Young to Die: Punk Graphics, 1976–1986. Led by artist, designer, and photographic chronicler of NYC's punk and no wave scenes, Julia Gorton, the workshop includes free wine and beer and all the materials needed to explore the DIY aesthetics of punk's graphic design. 
Julia Gorton is a designer, illustrator, photographer, collaborator, punk insider, and educator.  She is currently the Director of Graphic Design and Printmaking at the New School.  Her photography and graphic design work has been seen in MoMa's Designing Modern Women 1890-1990, and Making Music Modern: Design for Ear and Eye, and MAD's Too Fast to Live Too Young To Die: Punk Graphics, 1976–1986.
MAD's Design Happy Hour take place select Wednesday evenings in our Artists Studio space. Enjoy an open bar of wine and beer while exploring design techniques with some of the city's most exciting makers and creatives. Become a student member for just $50 and enjoy a $10 savings on our Design Happy Hours and more!