Talks | From Cosmic to Camp: Hippie Chic Fashions, 1967–1972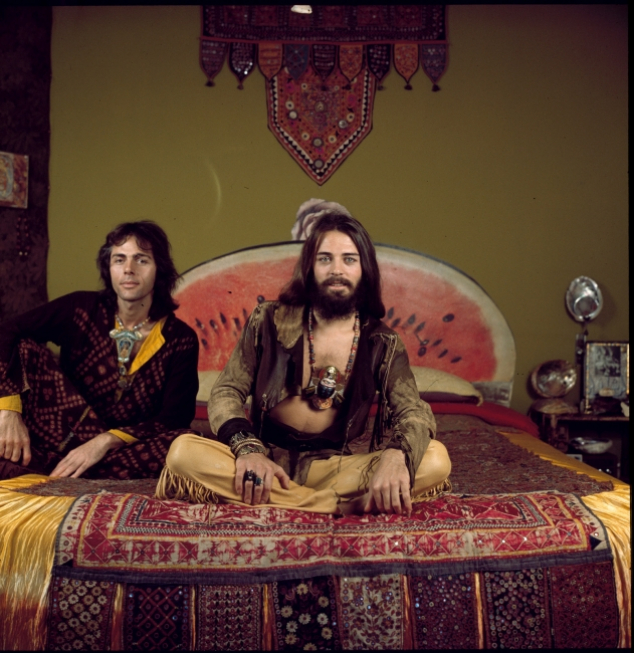 Program Details
Thursday, July 13, 2017 - 6:30 pm to 8:00 pm
$15 general / $10 members and students
The Theater at MAD
Thursday, July 13, 2017 - 6:30 pm
Program Description
The late 1960s was a revolutionary time in fashion, as the Counterculture's challenges to authority manifested in new ways of thinking about clothing. The emerging hippies rejected the dictates of French high fashion, opting instead to draw on a range of influences to create their own eclectic and highly individual looks. Psychedelic fashion, one of the earliest expressions of this experimentation, featured saturated "acid" hues and bold graphic prints drawn from contemporary pop and commercial art. Other imaginative fashions quickly followed, inspired by sources as diverse as ethnographic art, romantic clothing from the Victorian and Edwardian eras, Jazz Age glamour, and global craft techniques like tie-dye, quilting, and macramé.
Travel back to the late 1960s/early 1970s with curator Lauren Whitley of the Museum of Fine Arts, Boston, to explore the era's freewheeling fun fashions in celebration of MAD's exhibition Counter-Couture: Handmade Fashion in an American Counterculture.
Lauren Whitley is Senior Curator in the David and Roberta Logie Department of Textile and Fashion Arts at the Museum of Fine Arts, Boston, where she helps oversee a global collection of 55,000 textiles, costumes, and accessories. She graduated from Trinity College with a BA in Art History, received her MA in Fashion and Textile Studies from the Fashion Institute of Technology, and is currently a PhD candidate in Humanities at Salve Regina University. Since joining the staff of the MFA, Boston, she has curated fourteen exhibitions, including Hippie Chic, Icons of Style, and High Style and Hoop Skirts: 1850s Fashion. Her most recent project was co-curating #techstyle, an exhibition showcasing the synergy between contemporary fashion and technology, on view at the MFA in 2016.