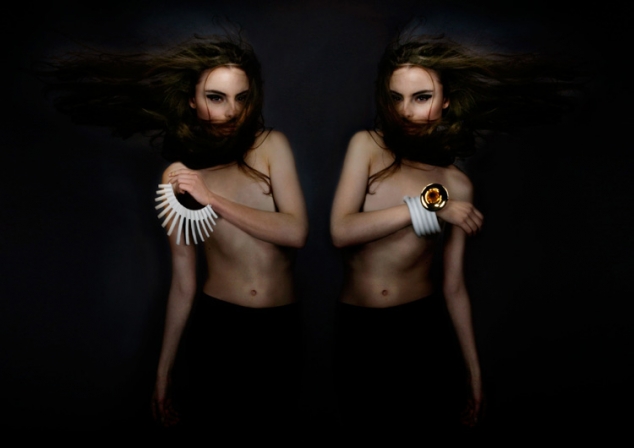 Audiowear, image courtesy Christie Wright and Arjen Noordeman
click image to enlarge
Program Details
Thursday, September 22, 2011 - 7:00 pm
$15 general / $12 members and students
The Theater at MAD
Thursday, September 22, 2011 - 7:00 pm
Program Description
Created by Christie Wright and Arjen Noordeman "Audiowear", is a collection of musical jewelry inspired by idiophone and aerophone instruments and the acoustic quality of clay.
Designed utilizing 3D modeling technology, the Audiowear jewelry creates a new wearable form of jewelry that is both adornment and musical instrument.  This September, join a selection of musicians who will perform a concert of songs created utilizing the Audiowear.  
Hosted by DJ Skooby Laposky, who created the first Audiowear instrumental, the concert will not only present and demonstrate this new collection but also allow rare chance to see the Audiowear collection in action.
Performing artists include:
Breez Evahflowin', Caits Meissner & Dirt E. Dutch
Kalae Allday
Rabbi Darkside
The Protege
Access Immortal
Sketch tha Cataclysm
Roc Doogie
Rising Sun Quest
Verse Essential
This program is supported, in part, by public funds from the Netherlands Cultural Services
Programs