Special Events | Art Museum Day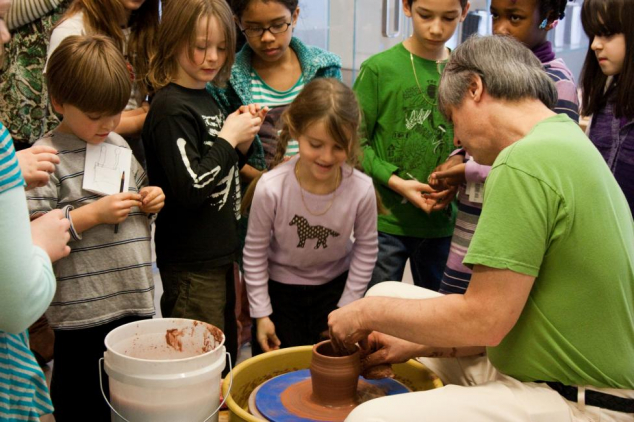 Program Details
Sunday, May 18, 2014 - 10:00 am
Free Admission to Special Programs
Throughout MAD
Sunday, May 18, 2014 - 10:00 am
Program Description
The Museum of Arts and Design is celebrating the Association of Art Museum Directors' (AAMD) Art Museum Day by offering free admission, special educational programs and events all day Sunday, May 18, 2014.
MAD invites visitors to share their experiences at Art Museum Day via Twitter, Facebook and Instagram with the hashtags #MADmuseum and #ArtMuseumDay. 
EXHIBITIONS
Out of Hand: Materializing the Postdigital
On view through June 1, 2014
Museum of Arts and Design
Floors 4, 5 
Visit Out of Hand: Materializing the Postdigital, an exhibition exploring the many areas of 21st-century creativity made possible by digital fabrication. Out of Hand is the first major museum exhibition to examine this interdisciplinary trend through the pioneering works of more than 80 international artists, architects, and designers, with works ranging from sculpture and furniture to fashion and transport.
Re: Collection 
On view through September 7, 2014
Museum of Arts and Design 
Floor 3  
MAD celebrates the fifth anniversary of its move to 2 Columbus Circle with the exhibition Re: Collection. The exhibition will survey Chief Curator Emeritus David McFadden's sixteen years at MAD through objects acquired during his tenure. Featured artists include Judy Chicago, Kim Schmahmann, James Turrell and Sebastian Brajkovic, among many others.
Multiple Exposures: Jewelry and Photography
On view through September 14, 2014 
Museum of Arts and Design 
Floor 2 
The first museum exhibition to explore how contemporary jewelry artists transform and add new meaning to the pervasive images of this digital age, Multiple Exposures features more than 80 artists from over 20 countries, including Gijs Bakker, Wafaa Bilal, Jiro Kamata, Otto Künzli, Kara Ross, Bettina Speckner, Joyce J. Scott, Kiff Slemmons, and Andy Warhol, among others.

CINEMA
2D/3D/4D: Contemporary Artist Animations
10 am – 6 pm
The Theater at MAD  
Exploring new possibilities in content, technique, and distribution, many of today's pioneering artists continue to expand the possibilities and trajectories for animation.  From works developed for online viewing, self- generating 3D creations, to new forms of archives, mash-ups, and hand-drawn and computer-generated works, "2D/3D/4D: Contemporary Artist Animations" surveys the work of today's emerging innovators of animated practices.
GALLERY MAKING
Multiple Exposures: Hands On 
Button-Making with MAD's Teen Trustees
10am - 4pm
2nd Floor
Observing the distortion caused by concave reflections and fisheye lenses, visitors are invited to take self-portraits in the gallery during their visit to Multiple Exposures: Jewelry and Photography. The museum's Teen Trustees will be available to help visitors print their fisheye portraits and immortalize them into wearable buttons to give or treasure.
PUBLIC DOCENT TOURS
Highlights Tour
11:30 am
Lobby 
Discover the Museum's latest exhibitions on a highlights tour that gives visitors an introduction to Out of Hand: Materializing the Postdigital, Re: Collection, and Multiple Exposures: Jewelry and Photography.
Building as Object Tour
1:30 pm
Lobby 
Join us for an in-depth look at the Museum's architectural history and some of our permanent installations.  Participants will also visit current exhibitions and see how the architecture directly impacts installations and exhibition design.
Transforming Materials Tour
3:00 pm
Lobby
Uncover the value of making across all fields of contemporary creativity with the 'Transforming Materials' tour. The tour will highlight objects that showcase materials and techniques transformed in inventive, creative and masterful ways.
From the Artisanal to the Digital Tour
4:00 pm
Lobby
Skilled making and creativity span the spectrum, from woven tapestries to 3D printed dresses.  This tour will highlight the union of traditional and more contemporary approaches to art making, and illustrate how artists use a full range of tools to convey their larger ideas and intentions.
OPEN STUDIOS
MADlab Classroom:  Exploring Photo Transfers
12 pm – 4 pm 
6th Floor
Remix and reuse images in this fun, informal workshop where participants use photocopies and transfer techniques to explore line, shape, pattern and composition.  Inspired by the exhibition Multiple Exposures, visitors are encouraged to rethink uses of photographs and to apply new and interesting techniques to traditional processes.
Artist Studios: Christopher Lynch
10 am – 6 pm
6th Floor
Explore the intersection of photography, technology and perception with artist Christopher Lynch. At once playful and thoughtful, Lynch's work includes photography, 3D printed figures and reconstructed realities. Visitors are invited to come talk to Lynch about his work and learn about his process.
Artist Studios: Chris Pellettieri
10 am – 4 pm
6th Floor
Meet Chris Pellettieri, one of the featured artists in the upcoming NYC Makers: The MAD Biennial, as he works on a stone carving that will be part of the exhibition. Inspired by the Ancient Roman God Janus, Chris is creating a two-faced sculpture inspired by A Tale of Two Cities as it relates to New York City.  Look closely to see a hairline that mimics a city skyline and two faces representing the economic condition of the city.