Calendar / Upcoming Programs: Artslab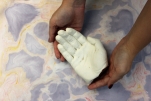 Friday, December 14, 2018 -

4:00 pm

to

6:00 pm
Join artist Nirvana Santos for an introduction to life casting. Participants will work in pairs to make a mold of their own hands using the nontoxic alginate method.
Friday, January 4, 2019 -

4:00 pm

to

6:00 pm
Join artist Lily Moebes for a non-traditional multimedia workshop exploring expressions, postures, and gestures as eloquent communicative tools through mask-making and figure drawing.