Museum Hours Today
10 am to 6 pm
Docent Tours
There are docent tours at 11:30 am and 3 pm. Docent tours are free with admission and meet in the lobby.
Artist Studios
Visit Lily Moebes this Wednesday in the Artist Studios at MAD.
Lily Moebes uses her practice to study how dissociation affects agency in the traumatized body. She explores the politics of details and their erasure, with a focus on the body, the family, and the public sphere. Erasure being inherently violent, she engages details as a...
Visit Emma Sulkowicz this Thursday, Friday, and Saturday in the Artist Studios at MAD.
Emma Sulkowicz earned a BFA in Visual Arts from Columbia University and studied studio art in the Whitney Museum Independent Study Program. They are perhaps best known for their senior thesis at Columbia, Mattress Performance (Carry That Weight), an endurance...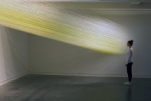 Members
Wednesday, October 17, 2018 -

6:00 pm

to

7:00 pm
Supporting members and above are invited to join exhibition artists Robert Baines and Anne Lindberg for a private tour of Fake News and True Love: Fourteen Stories by Robert Baines and the eye's level: Ann Lindberg.
Exhibitions on view today