Museum Hours Today
10 am to 6 pm
Docent Tours
There are docent tours at 11:30 am and 3 pm. Docent tours are free with admission and meet in the lobby.
Artist Studios
The
Artist Studios
are open today from 10 am to 1:30 pm and 2:30 pm to 5 pm.
Rachel Grobstein creates miniature sculptures and paintings based on objects from everyday life. Her work ranges from constellations that evoke arrangements of natural specimens to still lifesthat catalogue a daily world where domestic routine meets consumer culture and...
Visit Tamara Santibañez this Tuesday, Wednesday, Thursday, and Saturday in the Artist Studios at MAD.
Tamara Santibañez draws from her holistic identity as it relates to the worlds of the American South, Mexican tradition, immigrant family dynamics, queerness, punk rock, and sadomasochism. She grounds her own experiences through piecing together formative fabrics, sounds,...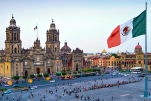 Members
Wednesday, February 20, 2019 - 9:00 am

to

Monday, February 25, 2019 - 6:00 pm
Explore Mexico City's flourishing arts and design scene on MAD's next members trip! Visit the studios of cutting-edge artists, galleries, private collections, renowned museums including the world-famous Palacio de Bellas Artes, Soumaya and MUNAL Museums.
Exhibitions on view today