Museum Hours Today
10 am to 9 pm.
Pay-what-you-wish admission from 6 to 9 pm.
Docent Tours
There are docent tours at 11:30 am, 3 pm and 6:30 pm. Docent tours are free with admission and meet in the lobby.
Artist Studios
Visit Anna Riley this Thursday in the Artist Studios at MAD.
Anna Riley's practice is driven by in-depth research of materials. She works with common substances: glass, lime, and washing soda, to name a few. By creating or altering the circumstances of their manufacture—whether reversing the coloration in glass or making lime using...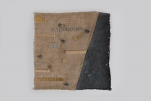 MADmakes
Thursday, October 19, 2017 - 6:00 pm
Learn about the process of designing a handwoven textile with artist-in-residence Luam Melake. In this iteration of MADmakes, Melake will show examples of historical precedents and lead a discussion on the significance of color, composition, and material selection, while participants gain hands-on experience drafting designs for textiles on graph paper.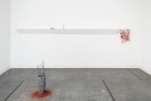 Talks
Thursday, October 19, 2017 -

6:30 pm

to

8:00 pm
Moderated by Shannon Stratton, this panel discussion brings together Alice Hope, Nadia Martinez, and Barb Smith for a conversation about female artists working in the field of metals.
Exhibitions on view today