Cinema | The Unstable Object 1
(Q&A with Daniel Eisenberg and Thomas Elsaesser, Professor Emeritus at the Department of Media and Culture of the University of Amsterdam)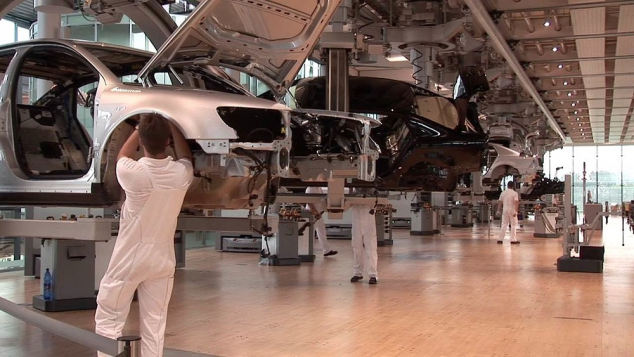 The Unstable Object I
click image to enlarge
The Unstable Object I

click image to enlarge

The Unstable Object I

click image to enlarge

The Unstable Object I

click image to enlarge

The Unstable Object I

click image to enlarge

The Unstable Object I

click image to enlarge

The Unstable Object I

click image to enlarge
Program Details
Friday, April 1, 2016 - 7:00 pm
$10 general / $5 members and students
The Theater at MAD
Friday, April 1, 2016 - 7:00 pm
Program Description
(Daniel Eisenberg, 2011, USA)
68mins, Digital Projection
Spun from a history of industrial and labor-based documentary cinema, Daniel Eisenberg's essayistic film immerses the viewer in an industrial microcosm and offers a contemporary observation of the day-to-day work-life of people making cymbals, wall clocks and luxury automobiles in two different factories, one in Dresden and the other in Chicago. The sounds and images recorded at these locations collide to reenvision the nuances of modern factory work in a world that is increasingly mechanized and technologically driven.
Q&A with Daniel Eisenberg and Thomas Elsaesser, Professor Emeritus at the Department of Media and Culture of the University of Amsterdam, will take place after the screening.
 
Based in Chicago, Daniel Eisenberg has been making films and video since 1976. His work has been screened throughout Europe, Asia, and the Americas, with solo exhibitions at the Museum of Modern Art, New York; the Centre George Pompidou, Paris; the Pacific Film Archive, Berkeley; the Museum of the Moving Image, New York; the Musée du Cinema, Brussels; De Unie, Rotterdam; and Kino Arsenal, Berlin. His films have been shown at numerous festivals, including the Berlin International Film Festival; the Sydney Film Festival; the London Film Festival; the Jerusalem Film Festival; and the Whitney Biennial, New York. Eisenberg has been the recipient of several awards, including a Guggenheim Fellowship, a Creative Capital Foundation Grant, the DAAD Berliner Künstlerprogramm Fellowship, and a National Endowment for the Arts Fellowship. His films are included in the collections of the Centre Georges Pompidou; Arsenal-Experimentale, Berlin; the Nederlands Filmmuseum, Amsterdam; and the Haus des Dokumentarfilm, Stuttgart, as well as numerous university, art, and film school collections. Eisenberg is a professor in the Film, Video, New Media, and Animation and the Visual and Critical Studies Departments at the School of the Art Institute of Chicago. He received the Berlin Prize of the American Academy in Berlin in 2014–2015.