Teens | Teen Night @MAD
A total teen takeover in celebration of MAD's newest exhibition, Japanese Kōgei | Future Forward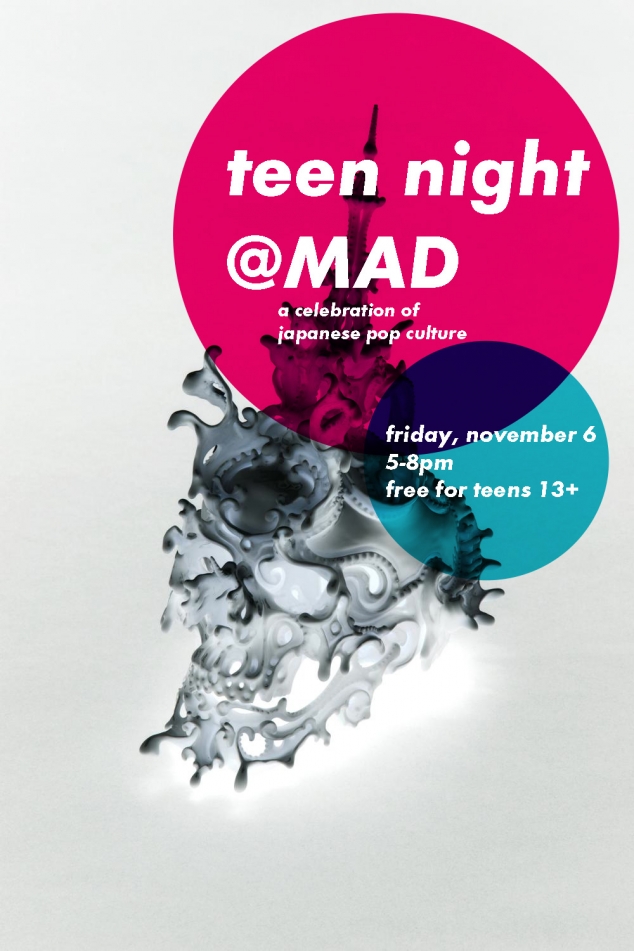 Program Details
Friday, November 6, 2015 - 5:00 pm to 8:00 pm
Free for students ages 13 - 19 with ID
Throughout MAD
Friday, November 6, 2015 - 5:00 pm
Program Description
Grab your friends and join us for Teen Night @MAD, an evening of music, gallery conversations, art making, snacks and other hands-on activities in celebration of Japanese pop culture. Explore the possibilities of making in today's globalized society, a phenomenon that has highlighted the intersections of arts, design, and craft. Hosted in collaboration by MAD's Teen Council and the Museum Teen Summit, Teen Night @MAD is the museum's biggest youth event of the year.
Visit the Kōgei galleries where our Artist Educators will tap into myth and folklore in an interactive emoji storytelling event.
Explore your wild side with artist H E I D I L E E. Based on the art of folding, origami, and troublewits/paper magic, create hats that can be worn and transformed.
Silkscreen with master printer Leslie Diuguid while she creates new works in MAD's custom screen-printing studio, The Print Shop.
Create Chibi characters with Ivan Velez in a hands-on manga workshop while learning the nuts and bolts of American and Japanese comic styles.
Collaborate with sugar artist Margaret Braun in a Kintsugi workshop, celebrating the breakage and repair of sugar chawan bowls with gold leaf.
Get fierce in a photo shoot inspired by the edgy fashions of the Harajuku district, enjoy Japanese treats, sweets, and music, and get your strut on with fabulous origami wearables.
Teen Night @MAD celebrates MAD's newest exhibition Japanese Kōgei | Future Forward. Kōgei highlights the melding of traditional Japanese craft culture with the contemporary. Explore Japanese popular culture and what it reveals about the society's history in craft.