In the MAD Loupe with Märta Mattsson and Bella Neyman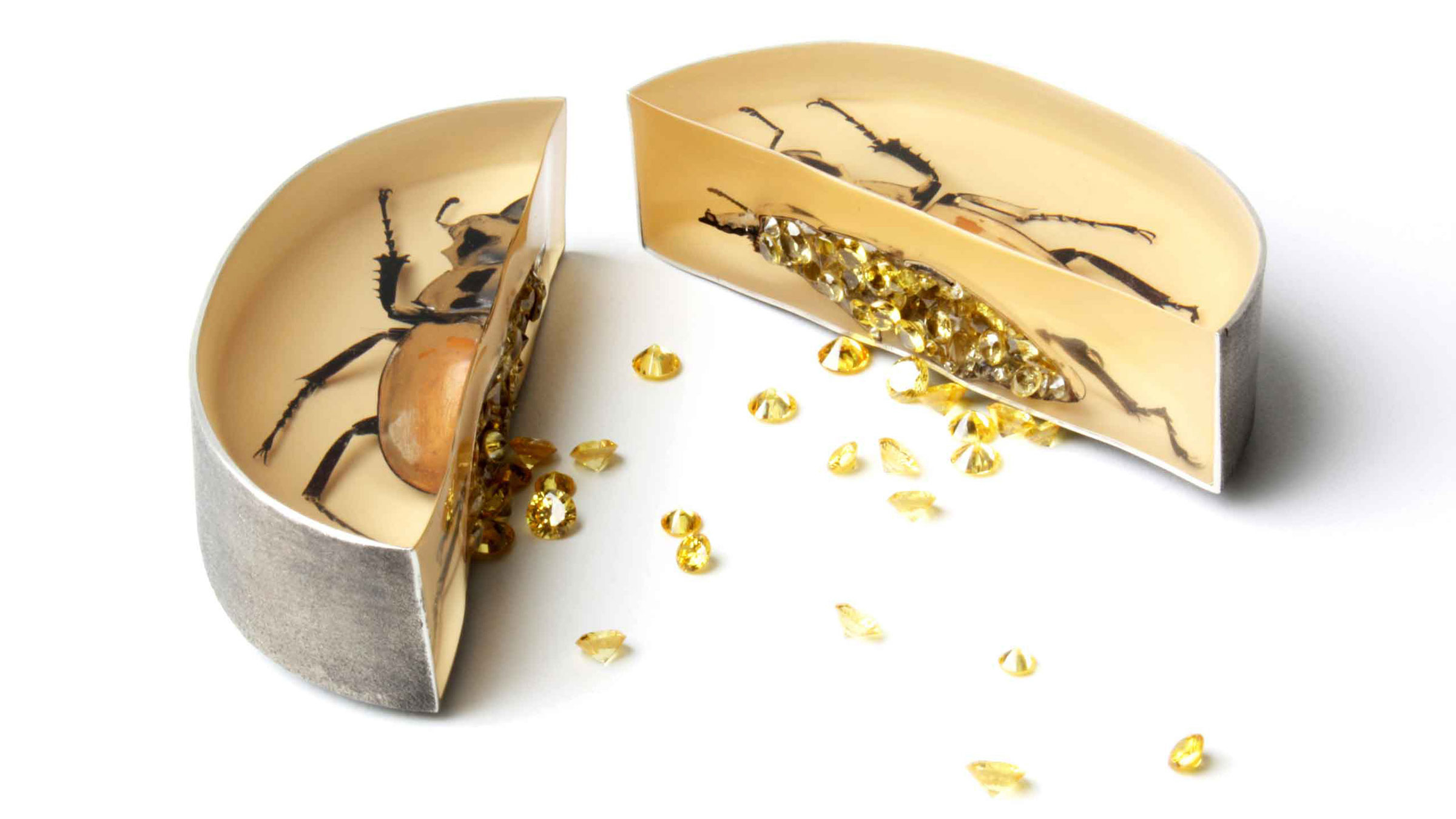 Pull up a virtual chair and join associate curator Barbara Paris Gifford as she welcomes artist Märta Mattsson and independent curator Bella Neyman to discuss the art of dead insects and fossils in contemporary jewelry. As her work in MAD's exhibition 45 Stories in Jewelry demonstrates, Mattsson's practice explores the liminal space between attraction and repulsion. She takes seemingly inappropriate materials, making ordinary and familiar objects seem extraordinary and unfamiliar. The conversation will be deepened by Neyman, an expert on Mättsson's practice who wrote about her work for 45 Stories in Jewelry and its accompanying catalog.
In the MAD Loupe is a series of talks on contemporary jewelry hosted by associate curator Barbara Paris Gifford. Access is free for all members and patrons. Ticket costs for this edition may be applied to the purchase of a MAD Membership. Please contact members@madmuseum.org to become a part of the MAD family today.
About the speakers
Märta Mattsson was born in Stockholm, Sweden in 1982. She received a Master's degree from the Royal College of Art in London in 2010. She also holds a Bachelor's degree in jewelry art from HDK - Acadamy of Design and Crafts in Gothenburg and has been an exchange student at Hiko Mizuno College of Jewelry in Tokyo, Rhode Island School of Design in Providence, and at Hawaii Pacific University. She has exhibited her work both nationally and internationally since 2006 in over 20 solo exhibitions and many group exhibitions. Märta has given workshops and lectures of her work in countries like China, Belgium, Mexico, Thailand, the USA, and Latvia.
Bella Neyman is the co-founder of New York City Jewelry Week. She is also an independent curator and journalist specializing in contemporary jewelry. Most recently she served on the Curatorial Advisory Committee for 45 Stories in Jewelry: 1947 to Now (on view through 2022) at the Museum of Arts and Design in New York. Since graduating with a Master's Degree in Decorative Arts and Design History from Cooper Hewitt, Smithsonian Design Museum & Parsons, The New School for Design in 2008, she has worked for some of New York City's leading design galleries. Neyman's articles have been published in The New York Times, American Craft, and the Magazine Antiques. She is also a frequent contributor to Metalsmith magazine. Neyman lectures on topics related to the history of jewelry at the 92Y and Christie's. She is on the Board of Art Jewelry Forum. Neyman and her family reside in Brooklyn.
Image:
Märta Mattsson, Beetle Juice, Brooch, 2010
Image courtesy of the artist