Calendar / Upcoming Programs: Studio Sundays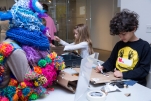 Sunday, October 7, 2018 -

10:00 am

to

1:00 pm
Join exhibiting artist Lexy Ho-Tai to create a Kooker—a wild and wacky creature from a playful, faraway world. Using their imaginations, participants will create a Kooker mask or headdress using found and recycled materials.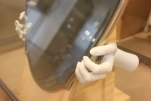 Sunday, December 2, 2018 -

10:00 am

to

1:00 pm
During this iteration of Studio Sunday, artist and activist Emma Sulkowicz will guide children and their families in making unconventional self-portraits.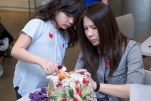 Sunday, February 3, 2019 -

10:00 am

to

1:00 pm
Join artist Victoria Manganiello to experiment with fibers and make your own felted creations. Participants will learn the basics of both wet and dry felting, and explore various color combinations and fiber patterns.
Exhibitions on view today