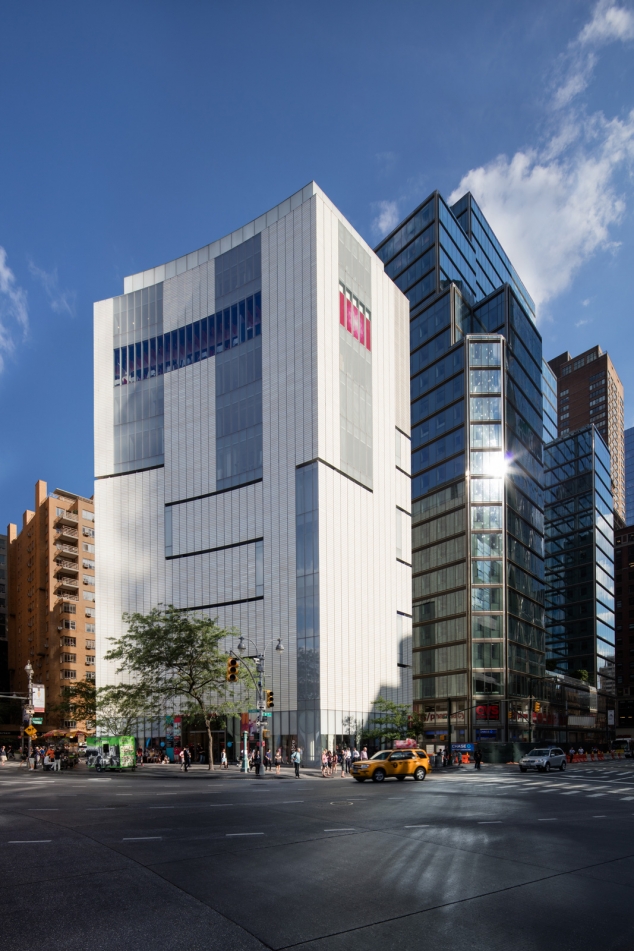 The Museum of Arts and Design at Columbus Circle
click image to enlarge
Education Groups Coordinator
The Museum of Arts and Design (MAD) seeks an Education Groups Coordinator to assist with all administrative aspects of the Education Department, including coordinating and scheduling all school and some adult group tours, and managing the daily needs of the department, such as: monitoring office expenses and revenue, and ordering office supplies. As a member of the Education Department, the Education Groups Coordinator will also maintain relationships with long-term external partners and foster relationships with new audiences. The successful candidate will have strong organizational skills, an acute attention to detail, and the ability to juggle multiple priorities simultaneously.
See More...
This position reports to MAD's Deputy Director of Education but will work collaboratively across the Education Department and other departments throughout the Museum on scheduling, evaluation, and outreach. This position is part-time, 15 hours a week, with no benefits. Compensation is $17 an hour.

Essential Responsibilities
Handle all scheduling for school and some adult groups, and respond promptly to inquiries by phone or email; finalize tour arrangements with school administrators, teachers, or tour operators; communicate with Museum artist educators and docents, as well as ensure all booking, confirmations, invoicing, and payments are processed in a timely fashion.
Function as the department point person for the use of MAD's booking software, ACME, for reservations, payments, and reporting.
Effectively communicate the programs and services offered to groups visiting the Museum.
Accurately relay group policies and procedures to group leaders.
Execute outreach initiatives for attracting groups to the Museum, which may include drafting e-blast materials, developing outreach lists, etc.
Gather evaluations and feedback from group organizers and participants.
Handle department-wide administrative duties, including, but not limited to, monitoring expenses and revenue, processing department invoices for payment, maintaining calendars, and ordering office supplies.
Perform other duties as assigned.
Qualifications
Bachelor's degree or equivalent combination of education and experience, coupled with interest in arts administration.
Attention to detail and strong organizational skills, with the ability to juggle multiple priorities simultaneously.
Outstanding written and verbal communication skills, as well as proficiency in Microsoft Office (Word, Excel, and PowerPoint), Google Suite, and knowledge of booking software like ACME.
Collaborative nature and ease with building strong relationships across departments, with tour organizers, school administrators, and with partner institutions.
Application
Please submit cover letter and resume to education@madmuseum.org with "Education Groups Coordinator" in the subject line. Only eligible candidates will be contacted. No phone calls, please.
MAD is an equal opportunity employer and does not discriminate in the hiring of personnel on the basis of race, creed, color, religion, national or ethnic origin, gender, age, Vietnam-era veteran or disabled veteran status, sexual orientation, marital status, disability, or any other protected status as provided by law.
Visitor Experience Associate
Visitor Experience Associates are the front line staff of the Museum, creating the "face" of MAD to the public. This position is responsible for ensuring a positive visitor experience.
See More...
Job duties include and are not limited to
Actively and enthusiastically greeting the public.
Sell tickets including cash and credit card transactions.
Manage cash till in accordance with museum policies and procedures.
Sell, process, and provide tickets and information about lectures, films, and special programs.
Sell memberships and provide member support during shifts
Answer inquiries about exhibitions, programs, amenities, membership, and related matters.
Answer phone calls to Visitor Services desk.
Coordinate with various departments regarding daily operations, deliveries, and appointments.
Perform crowd control in lobby as needed
Restock the desk with exhibition, program and membership brochures.
Perform opening, mid-shift, and closing duties.
Notify Manager of services and information the public routinely requests.
Perform other duties as assigned.
Qualifications
Candidates must possess, or have significant coursework towards, a Bachelor's degree, as well as an understanding of customer service.
Knowledge of ACME ticketing software a plus.
Knowledge of Raiser's Edge a plus.
Excellent customer service, problem-solving, and interpersonal skills.
Must be able to work nights and weekends.
Knowledge of Spanish or French is helpful but not required.
Knowledge of art, craft, design, or museum work is strongly preferred.
Weekend, evening, and holiday availability preferred.
Scheduling
Part-time Visitor Experience Associates are scheduled up to 16 hours per week. Additional hours may be available.
Please submit a resume and cover letter to Saran Adkinson, Visitor Experience Manager by emailing jobs@madmuseum.org with subject line: Visitor Experience Associate.
Opportunities for Artists
Artist Studios Program
The Artist Studios program hosts artists and designers daily in open studios. Artists-in-residence receive space and support to develop new work and expand their practice, while welcoming dialogue with the public about their processes, materials, and concepts.
The Program offers one full-time MAD Fellowship and six daily residencies per six-month session (February—July, August—January). Each resident is assigned one day each week to work, including select Thursday evenings, while fellows work 40 hours per week (schedule varies). Both residents and fellows benefit from a stipend, studio space with access to a variety of tools and materials, as well as professional development opportunities.
Successful applicants have a mature body of work and clearly understand the public-facing dimension of the program. Learn more about the Artist Studios.
Burke Prize
Named for Marian and Russell Burke, two passionate collectors of craft and longtime supporters of MAD, the Burke Prize is an annual award that reinforces the Museum's commitment to celebrating the next generation of artists working in and advancing the disciplines that shaped the American studio craft movement. The prize is an unrestricted $50,000 award made to a professional artist age 45 or under working in glass, fiber, clay, metal, or wood.
Each fall, the Museum presents an exhibition of works by the Burke Prize finalists. The winner is announced at the MAD Ball, the Museum's annual fundraising gala. Learn about the 2018 Burke Prize finalists and exhibition here.