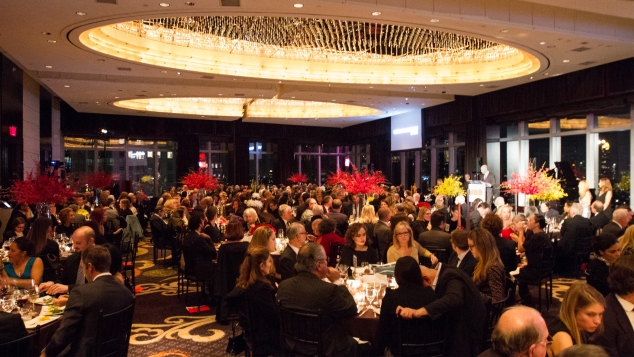 MAD Ball
click image to enlarge
Museum of Arts and Design's 60th Anniversary Diamond Jubilee
Tuesday, November 1, 2016
Pier Sixty: Chelsea Piers
Click here to purchase tickets, or call 212.299.7729
Click here for the invite and response form
The Museum of Arts and Design (MAD) will honor luminaries from the worlds of art, fashion, real estate, and design at its most highly anticipated event of the year, the MAD Ball. Honorees exemplify the Museum's mission to celebrate leadership and the creative process through which materials are crafted into objects and design that enhance contemporary life. Long-time member of the Museum's Board of Trustees, Charles S. Cohen, President/CEO, Cohen Brothers Realty Corporation and Chairman/CEO, Cohen Media Group; architect Zaha Hadid in memoriam; Italian design innovator Angela Missoni; and artist Yinka Shonibare MBE are this year's honorees.
This is an exciting time for the Museum as we celebrate our 60th Anniversary Diamond Jubilee and welcome our new Nanette L. Laitman Director, Jorge Daniel Veneciano.
The MAD Ball will be held at Pier Sixty, Chelsea Piers. Our artist and art-filled celebration, emceed by Simon Doonan, will begin at 6:30pm with cocktails and a silent auction, followed by dinner, the awards presentation, and live entertainment at 7:30pm, concluding with an after party at 9:00pm.
MAD Ball is the Museum's single most important fundraiser and all proceeds help fund MAD's education, public and exhibition programs, and general operations, which serve over 300,000 people per year.  We look forward to having you join us to celebrate the achievements of these extraordinary individuals!
Event Chairmen:
Iris Apfel
Andi Potamkin Blackmore
Cecily M. Carson
Jerome A. Chazen
Michele Cohen
Shari Siadat Loeffler
Linda Plattus
Ralph Pucci
Host Committee:
Chris Antemann
Barry X. Ball
Dror Benshetrit
Felix Burrichter
Wendell Castle
Leslie and Dale Chihuly
Jane and James Cohan
Ellie Cullman
Rafael de Cárdenas
Lauren and Richard Dupont
Sebastian Errazuriz
Richard Estes
Sir Norman Foster
Milton Glaser
Leila Heller
Holly Hunt
Chris Jones
Lauren Kalman
Garrow Kedigian
Amy Lau
Juan Pablo & Pilar P. Molyneux
Juan Montoya
David Nosanchuk
Ebony G. Patterson
Monique Pean
Katharina Plath
Karim Rashid
David Rockwell
Arlene Shechet
Jill Spalding
Andrea and John Stark
Stefano Tonchi
Paul Travis
Marcel Wanders
Honorees:
Charles S. Cohen Corporate Honoree
Zaha Hadid, in memorium, Lifetime Achievement Honoree
Missoni Design Honoree
Yinka Shonibare MBE Artist Honoree
Journal Chair: Barbara Tober
Emcee: Simon Doonan
Award Design: Tom Sachs
To purchase tickets to the MAD Ball 2016, click here.
For questions regarding MAD Ball 2016, please call Stephanie Lang at 212.299.7729 or email stephanie.lang@madmuseum.org.

Supporting Members and above are invited to join MAD's Assistant Curator Barbara Paris Gifford for a special private tour of the exhibition fashion after Fashion.