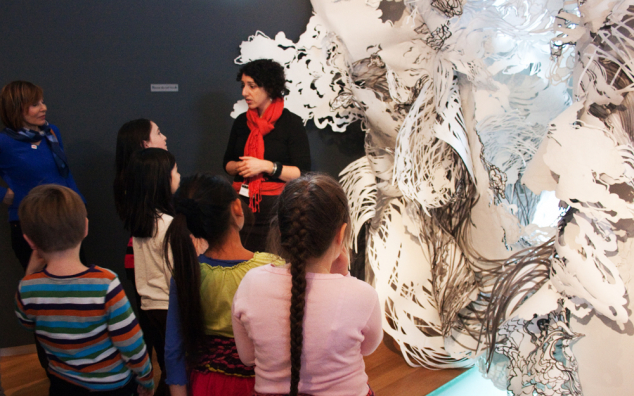 A MAD educator gives a tour to young students
click image to enlarge
Visitor Services Associate
Visitor Services Associates are the frontline staff of the Museum, providing the "face" of MAD to the public. They are responsible for ensuring a positive visitor experience and perform the following functions:
See More...
Actively greet the public.
Sell tickets, including cash and credit card transactions. Open, close, and manage cash till. Handle cash in accordance with museum policies and procedures.
Sell and process tickets; provide information about lectures, films, and special programs.
Sell memberships and provide member support.
Use point-of-sale and membership database programs (Blackbaud: Patron's Edge, Raiser's Edge)
Answer inquiries about exhibitions, programs, amenities, membership, and related matters.
Explain and follow museum policies.
Answer phone calls to Visitor Services desk.
Coordinate with various departments regarding daily operations, deliveries, and appointments.
Perform crowd control in lobby.
Restock the desk with exhibition, program and membership brochures.
Perform opening, mid-shift, and closing duties.
Notify Manager of the services and information that the public routinely requests.
Perform other duties as assigned.
Qualifications:
Candidates must possess, or have significant coursework towards, a Bachelors degree
Excellent customer service, problem-solving, and interpersonal skills.
Prior customer service experience preferred.
Must be able to work nights and weekends.
Fluency in at least one foreign language is ideal.
Knowledge of art, craft, design, or museum work is strongly preferred.
Scheduling:
Part-time Visitor Services Associates are scheduled up to 24 hours per week, on average.  Associates may occasionally work more than 24 hours, as requested to ensure desk coverage.
Rate of Pay: $12/Hour
Please submit a resume and brief cover letter expressing your interest in art and/or museum work to Miguel Santiago, Visitor Services Manager, miguel.santiago@madmuseum.org.
Opportunities for Artists
Artist Studios Residency and Van Lier Fellowship
The Artist Studios Program hosts residents and fellows daily in a live studio environment.  Residents and fellows are selected for four-month sessions (February – May, June – September, and October – January).  Each resident is assigned one day each week to work, along with a selection of Thursday and Friday evenings, while fellows work 40 hours per week (schedule varies).  Both residents and fellows have access to a variety of tools and materials, as well as professional development opportunities.
Successful applicants have a mature body of work and clearly understand the public-facing dimension of the program. To learn more about this opportunity click here.