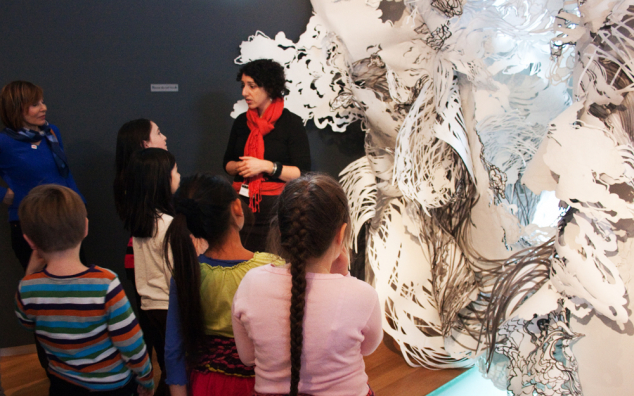 A MAD educator gives a tour to young students
click image to enlarge
Chief Financial Officer
The mission of the Museum of Arts and Design (MAD) is to collect, display, and interpret objects that document contemporary and historic innovation in craft, art, and design. In its exhibitions and educational programs, the Museum celebrates the creative process through which materials are crafted into works that enhance contemporary life.
MAD has an annual operating budget of $10M, a $12M endowment, 50+ FTEs, with over 300,000 visitors to its galleries, store, restaurant and events.  It is located in a 50,000 sq. ft. facility located on Columbus Circle with 12,000 sq. ft. of galleries, retail and event spaces, a 143 seat auditorium, and a fine dining restaurant with views of Central Park.  MAD is governed by a 34-member board of trustees.
See More...
Temporary Development Manager
The Museum of Arts and Design seeks a temporary Development Manager for Institutional Giving who will be part of the team responsible for meeting the Museum's $1.5 + million institutional giving fundraising goal each year through foundation, government and corporate support. The role will involve collaborating with the Development Team and other museum departments to support fundraising efforts. This is a full-time temporary position for approximately 5 months (December–April). This individual will report to the Chief Development Officer.  
See More...
Group Coordinator
Part-Time Permanent
The Museum of Arts and Design (MAD) seeks a Group Coordinator to coordinate and schedule school and group tours. As a member of the Education Department, the Group Coordinator will also maintain relationships with long-term partners as well as research and foster relationships with new audiences.
See More...
Manager of School, Youth, and Family Programs
The Museum of Arts and Design (MAD) seeks a Manager of School, Youth, and Family Programs to oversee and increase the school visit program. The successful candidate will be highly creative and energetic and have extensive experience working with school and teacher groups developing and implementing museum education teaching strategies. He or she will be expected to develop and present teacher training programs centered on ideas and issues related to the Museum's collections and exhibitions, as well as initiate and carry forward meaningful interactions and ongoing partnerships with the New York City Department of Education and its administrators. The training and supervision of part-time Artist Educators is a key responsibility of this position.
See More...
Visitor Services Associate
Visitor Services Associates are the frontline staff of the Museum, providing the "face" of MAD to the public. They are responsible for ensuring a positive visitor experience and perform the following functions:
See More...
Opportunities for Artists
Artist Studios Residency and Van Lier Fellowship
The Artist Studios Program hosts residents and fellows daily in a live studio environment.  Residents and fellows are selected for four-month sessions (February – May, June – September, and October – January).  Each resident is assigned one day each week to work, along with a selection of Thursday and Friday evenings, while fellows work 40 hours per week (schedule varies).  Both residents and fellows have access to a variety of tools and materials, as well as professional development opportunities.
Successful applicants have a mature body of work and clearly understand the public-facing dimension of the program. To learn more about this opportunity click here.